City of Melbourne also wants to inspire and encourage investment in new directions in architecture and design.
Eureka Tower, the Victorian Comprehensive Cancer Centre, Federation Square and the new Parliament House Annexe are all examples of distinctive contemporary buildings of Melbourne that we should celebrate.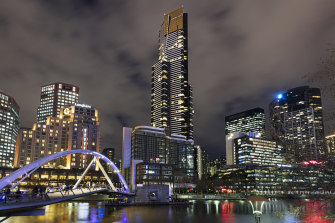 BHP House on William Street and ICI House in East Melbourne are both over 50 years old. Yet they both still look elegant and modern. They are great examples of how good design holds up and continues to shine over time.
Melbourne has long been famous for its beautiful shop fronts, especially along Collins and Bourke streets. We need to extend that experience to other quarters of the city.
Good design will be even more critical now if Melbourne is to retain its reputation as a highly attractive and liveable city as we emerge from the COVID-19 pandemic.
Melbourne's planning processes are quicker and involve far less red tape compared to other big cities. This is an advantage we need to preserve. But we also need to acknowledge that we need to lift the general standard.
The Melbourne Design Review Panel will be made up of leading architects, urban designers, landscape and building experts whose role is to provide independent, multidisciplinary design advice on specific projects and planning applications before the City. It will produce reports that will be publicly available and will be part of the materials considered by councillors when the council decides whether to support or oppose a development application.
A second important new body will be the Design Excellence Advisory Committee. It will provide a platform for industry, academia, and community to engage in a range of topics relating to urban planning and design, policy development, and design challenges and opportunities facing Melbourne.
Examples of topics for investigation include: What urban design changes are needed to respond to COVID induced changes to work and lifestyle patterns? What building and street design changes are needed as we transition to zero emissions? Which iconic sites and projects in Melbourne should be subject of design competitions?
Loading
The committee will also explore opportunities to strengthen collaboration across design excellence award programs, design events and initiatives. The mission is to create a culture where design excellence is an obsession for Melbourne.
By working together, council and industry can deliver good quality urban design and architecture, heritage conservation and adaptation, improved sustainability and greening outcomes – as well as strong financial returns on new developments.
The new Design Excellence Program will reinforce the Central Melbourne Design Guide which was approved by the City of Melbourne in 2019 and now awaits the approval of the Planning Minister. The guide sets new standards for building design – it even includes a pictorial guide to make it easy to follow.
Average is no longer good enough when it comes to architecture, design and urban amenity in Melbourne. Average does not cut it in COVID-recovery mode for one of the world's most liveable cities.
Nicholas Reece is the deputy lord mayor of Melbourne.