Shoppers are not panic buying at the levels seen last year but trolleys continue to be stuffed with more beans, rice, pasta and toilet rolls than before the pandemic with regional households in particular splashing out at the till.
Supermarket sales have fallen since the height of the pandemic in March 2020 but grocery shopping remains at escalated levels when compared to sales two years ago, latest Australian Bureau of Statistics data released on Monday shows.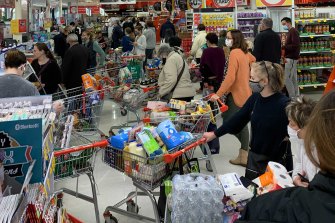 Sales outside state and territory capitals are particularly high, with experts suggesting an increase in holidaymakers heading to the country, city households relocating to the regions and changing shopping habits could be behind the rise in items being checked out in rural shops.
Between April and May, national supermarket turnover increased 4.5 per cent for perishable goods, 3.8 per cent for non-perishable goods and 4.4 per cent for all other products. Over the last 12 months perishable goods sales increased 0.7 per cent, non-perishables increased 0.5 per cent and all other products increased 2.6 per cent.
Perishable goods includes fresh fruit and vegetables, meat and dairy, while non-perishable goods includes canned fruit and vegetables, dry mix soups, confectionary, long-life milk products, flour and sugar. Other products is an umbrella term capturing items such as toilet paper, toiletries, cleaning and medicinal items.
On an annual basis the majority of regional areas are outpacing their city counterparts in terms of revenue growth.
In Sydney there was a 2.3 per cent decline in supermarket revenue over the year, compared to a 0.5 per cent increase across the rest of NSW. Melbourne's 0.9 per cent rise was outstripped by a 3.3 per cent increase for regional Victoria. Queensland, Western Australia, South Australia and the Northern Territory recorded the same trend.
BIS Oxford Economics chief Australia economist Sarah Hunter said the figures were "a bit of a puzzle" with the high level of regional activity possibly linked to more people relocating to the country.
Dr Hunter said households being forced to spend more time at home could also be leading to a disproportionately higher spend on non-perishable items in general.