The AFL is on the hunt for a new football operations boss after Steve Hocking's shock move back to Geelong to replace veteran administrator Brian Cook as the Cats' CEO.
Hocking will depart the AFL on Thursday to take up the position at the Cats in October, with the league's legal counsel Andrew Dillon to take over his old role until the end of the season.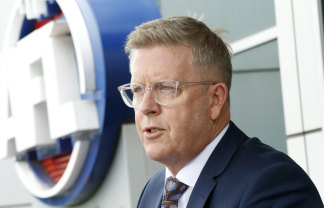 Hocking played 199 games at the Cats and has worked in several executive roles at the club, including the football manager and commercial operations manager.
He was appointed general manager of football operations at the AFL in August 2017. In this role, he led the operations of the AFL and AFLW competition, the laws of the game, Match Review Panel, and tribunal systems, umpiring at the elite level, key talent pathways and elite coaching development programs.
A noted change agent, he transformed the game in his role at the AFL, appointing a game analysis team to review the rules of the game in an attempt to increase scoring.
He made incremental change, introducing a raft of changes in 2019 including a new kick in rule and the six-six-six rule at centre bounces. He then reduced interchange rotations and brought in the standing-the-mark rule in 2021, but after an initial spike scores have remained relatively stagnant with teams averaging 80.3 points per game this season.
Hocking also introduced the competition committee to consult stakeholders on the future of the game, but many felt consultation in that forum dwindled during 2020 as COVID-19 restrictions disrupted the season.
He had already upset those in the AFLW in 2018 when he sent a memo to coaches after round one of that season in a bid to ease congestion.
Among other innovations was the score review system, otherwise known as the ARC, that was housed at head office, and the appointment of Michael Christian as the sole match review officer with Hocking overseeing his decisions.