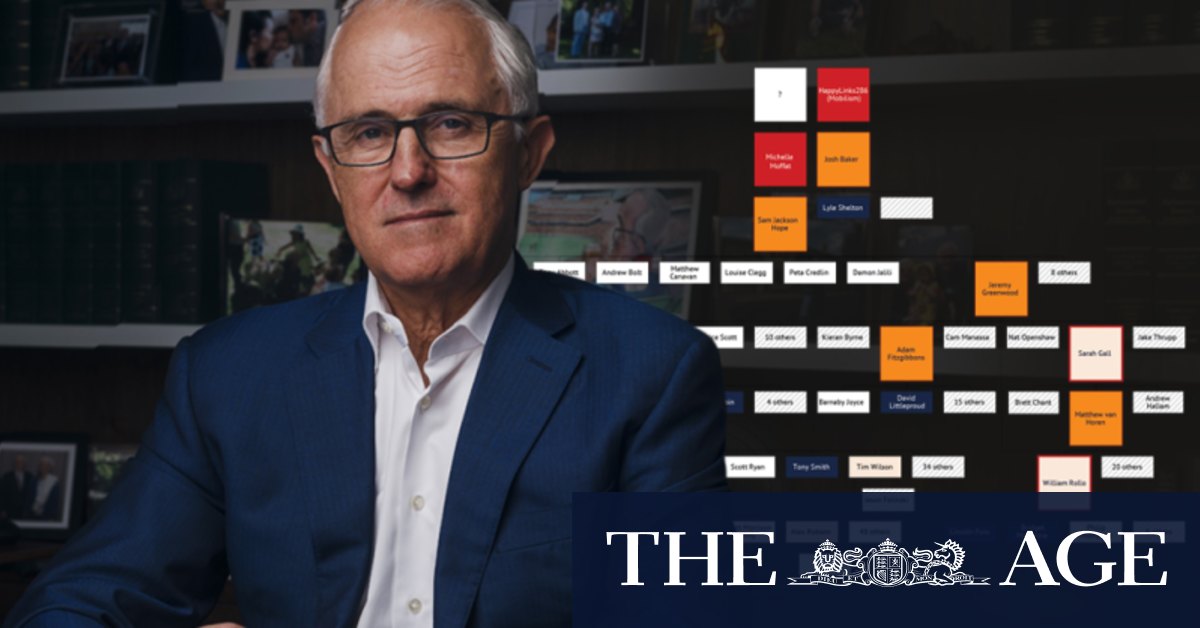 A spokesperson for the AFP refused to comment, citing the investigation may still be under way. But the diagram compiled by the investigators and submitted to the publisher still remains the greatest tool in pursuing those who received a copy of the manuscript, without paying for it.
The group email sent to Mr Abbott also included Energy Minister Angus Taylor's barrister wife Louise Clegg, and was sent by Mr Abbott's former media adviser, Sam Jackson-Hope.
The publisher said 20 individuals have paid a settlement, totalling $30,000.
Other lines of circulation include former foreign affairs minister Julie Bishop's staffer Rachel Obradovic, who forwarded the leaked manuscript to more than 10 people including Victoria's Liberal Party Opposition Leader Michael O'Brien, Advance Australia executive director Gerard Benedet and Pernod Ricard public affairs manager Byron Hodkinson.
Hodkinson then forwarded the email on to a heavyweight group of Victorian and federal Liberals and lobbyists including former South Australian MP Jamie Briggs, lobbyist David Gazard, former communications minister Mitch Fifield and former Indi MP Sophie Mirabella, who now works for the Fair Work Commission.
The group also included Victorian Senator James Paterson and John Roskam, who is the chief executive of the Institute of Public Affairs. Senior Victorian federal Liberals including Speaker of the House of Representatives Tony Smith and the President of the Senate Scott Ryan also received the manuscript in the same email, as did Goldstein MP Tim Wilson who forwarded the manuscript to NSW MP Jason Falinski.
Mr Wilson – who also used to work at the Institute of Public Affairs – is listed on the diagram as having forwarded the email to "a few others" while Mr Briggs, Mr Fifield, Mr Gazard, Ms Mirabella, Mr Roskam and Mr Smith were found to have deleted the email without forwarding.
Herald and Age reporter James Massola also received a copy of the manuscript which he deleted without forwarding on.
The Herald is not suggesting recipients of the leaked manuscript are under police investigation.
Critically, the publishers are still pursuing some recipients for more information about whom they received the email from and where they forwarded it to.
Loading
Grant told the Herald the investigation focused on finding the source of the original leak which is believed to have originated as a hacking attack on one of the e-book or online distributors. He also said they had approached the settlement process as a way to extract more information on where the leaked copy came from.
"We didn't go aggressively, we took the view that we wanted to find out how it had happened rather than going after a hostile win," he said. "We wanted a price that was fair to the author and that was punitive to an extent, but it was more a searching exercise than a punitive exercise."
The Morning Edition newsletter is our guide to the day's most important and interesting stories, analysis and insights. Sign up here.