"For me personally, I can't wait to have the chance to race at home again, and it'll be even sweeter when we do because it's been so long. Fingers crossed things can change for 2022 and we get to see the awesome fans at Albert Park again and put on a good show for them."
Mr Ricciardo, who has had a mixed season driving for McLaren, admitted it "hurt" that Australia could not host a race for two consecutive years.
"I normally smile … but it's hard. I'm really gutted we're not going back home to Oz this year," he said.
"I'm not coming home, for the others it's not their home – but I know everyone enjoys the Australian Grand Prix and coming to Melbourne … The main thing is that everyone keeps their chin up, everyone stays well and stays healthy."
Victorian Premier Daniel Andrews reiterated on Tuesday morning that the timing for the event didn't work.
"With travel caps being halved, with us not yet being at a critical mass of Victorians and Australians who've got the jab … running big international events is very, very challenging," he said.
"We'll get to that point by the end of the year … [once] vaccines are here in sufficient numbers."
Mr Andrews said he expected the Australian Open in January would therefore be able to go ahead, along with the F1 grand prix in March.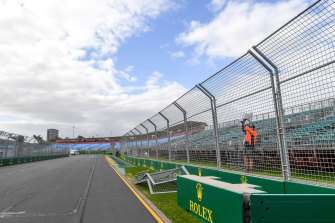 Earlier this year the Premier said it was imperative Melbourne hosted the Australian Open otherwise it could lose the grand slam to another country. He dismissed the risk of that occurring with the grand prix following a second successive cancellation on Tuesday.
"I would make the point that there are only four grand slam tennis tournaments a year. There are many more grand prix races than that. We are in discussions, there is an appreciation that it is very challenging in our country at this time to be agreeing to things months out, and to be agreeing to things prior to getting whatever it might be – 70, 80 per cent of people – through that Commonwealth vaccine program," Mr Andrews said.
"I don't think there's a risk that this event does not run here next year and indeed for many years after that. We have a contract out until 2025."
Victoria's Deputy Chief Health Officer Daniel O'Brien said while the state's public health team assesses COVID-safe plans for events it does not make the decisions.
"It's a decision between government and the actual grand prix corporation itself," Professor O'Brien said.
Loading
"We provided advice around the plan, but no specific thing … to say that it can't go ahead."
The Australian Grand Prix Corporation presented a COVID-safe plan to the government, arguing the event could be run safely for crowds and the community at large, with racing teams operating in a bubble.
But the plan appeared less politically feasible on Friday when Prime Minister Scott Morrison announced a new national coronavirus plan that will slash international flight numbers by half from July 14.
Organisers need several weeks' notice to cancel shipping arrangements, as some equipment is sent by sea.
Australian Grand Prix corporation boss Andrew Westacott was on Tuesday morning not in a position to comment on whether the event had been cancelled.
An Australian Grand Prix Corporation spokesman said it was "continuing to work closely with the Victorian government and Formula One Management on the complexities, conditions and arrangements relating to the staging of the 2021 Formula 1 Australian Grand Prix".
"Further detail will be provided upon finalisation with all parties," the spokesman said.
More to come
The Morning Edition newsletter is our guide to the day's most important and interesting stories, analysis and insights. Sign up here.