After sixty years of controlling the world's oil prices the OPEC cartel is on the verge of an implosion, with two of its key members at loggerheads over proposed increases in production.
A planned reconvened meeting of the cartel members on Monday – two earlier virtual meetings had failed to deliver an agreement — was abandoned after the United Arab Emirates (UAE) refused to agree to the 400,000 barrels a day increase each month proposed by Saudi Arabia and Russia.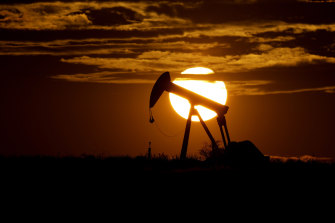 Their plan was to cautiously increase production from next month until December and extend the OPEC+ supply deal members committed to last year beyond its planned end date of April next year until the end of 2022.
The UAE, however, has to agree to the proposed extension of the production limits, arguing that it has been unfairly treated by the deal struck last year as the pandemic savaged the demand for oil, having been required to cut proportionally more from its production potential than other producers.
The impasse has had an impact on oil prices, with Brent crude edging up to more than $US77 a barrel, its highest level since late 2018. Last year, during the onset of the pandemic, it fell below $US20 a barrel, which forced the OPEC+ members to slash production by about 10 million barrels a day, or about 10 per cent of pre-pandemic global demand.
Those production cuts, in the midst of a glut as the Saudis increased output to force a reluctant Russia to co-operate in rebalancing supply and demand, have been partly wound back, with about 4 million barrels a day returned to the market.
Without a new agreement, and assuming OPEC+ remains intact, the existing production constraints would remain in place and oil prices are likely to continue to climb and pose a threat to the extent of the strong recoveries from the worst of the pandemic that are underway in most of the developed economies.
The stand-off between the UAE and the rest of the cartel has exposed, however, not just a fissure in the relationship between the UAE and the Saudis, which has traditionally been able to drive consensus within the cartel, but wider tensions between the two Middle East powers.
Previously closely aligned, differences over their interventions in Yemen (the UAE withdrew from the Saudi-led coalition in 2019), last year's UAE accord with Israel and the Saudis' threat to withhold government contracts from multinationals that have regional headquarters elsewhere – a direct threat to the UAE's Dubai – underlying the dispute over production quotas.