Video footage posted by LGBTQ activists showed protesters scaling their building to reach their balcony, where they tore down rainbow flags and entered the office of Tbilisi Pride.
Other footage showed a journalist with a bloodied mouth and nose and a man on a scooter driving at journalists.
A Thomson Reuters Foundation reporter saw a group of demonstrators chasing after a local reporter and two cameramen, who were then led away by police for their own safety.
A man whom the Polish foreign ministry said was a Polish tourist was stabbed several blocks from the demonstration and hospitalised; one suspect was arrested.
The Open Caucasus Media group published a photo of a man it said was a local TV journalist being pulled away from the demonstration in a headlock by an Orthodox priest.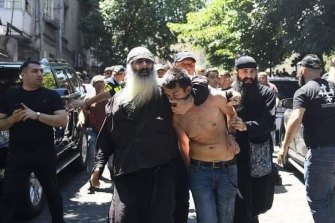 President Salome Zurabishvili condemned the violence but Prime Minister Irakli Garibashvili alleged the pride march was organised by "radical opposition" forces that he claimed were led by exiled former President Mikheil Saakashvili.
After the march was called off, some demonstrators staged a prayer outside a church facing the parliament building, while others danced to traditional music in celebration.
Tabagari said state authorities had "failed to protect us".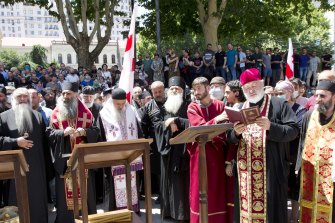 The interior ministry said in a statement that police had opened an investigation into the violence against media representatives, as well as into ransacking of the Tbilisi Pride offices and the headquarters of an opposition movement.
Loading
"Police forces remain mobilised in the streets of the capital and continue maintenance of public order. We once again call on everyone to follow the requirements of the law," the ministry said.
In the run-up to the march, the ministry urged Tbilisi Pride organisers to cancel the rally, saying it could not ensure safety – despite calls from the United Nations, the European Union, local rights groups and others that the march be allowed to go ahead.
Reuters, AP