Four Afghan civilians holed up in a Kabul safe house while waiting to give evidence in former soldier Ben Roberts-Smith's defamation lawsuit are in mounting danger from Taliban forces, who have seized nearly a third of the country and are reportedly in striking distance of the capital.
Mr Roberts-Smith's action against The Age, The Sydney Morning Herald, The Canberra Times and three journalists was adjourned for at least three weeks on June 29 when COVID-19 border restrictions meant interstate witnesses would be locked out of their home states or forced to quarantine for two weeks on their return.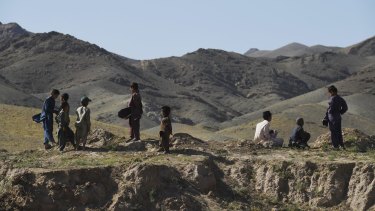 But as the proceedings wait for the threat of coronavirus to recede in Australia, the danger is advancing for three men and one woman on the other side of the world who claim to have witnessed alleged war crimes at the centre of the case. They are set to give evidence via video link from the offices of a law firm in Kabul.
The Taliban has been gaining ground in the north following the withdrawal of American and allied forces from Afghanistan, with 10 districts in Badakhshan province to the militant group in the past two days, according to Afghan officials, eight of them without a fight.
In Oruzgan province, where Australian troops spent much of their efforts during the war and where the alleged war crimes are alleged to have occurred, several districts have been taken over in the past week. The provincial capital of Tarin Kowt is the only district not under Taliban control.
The Afghan villagers are witnesses to the alleged murder of Ali Jan, who is alleged to have been kicked off a cliff and then shot in 2012 while he was under the control of Australian soldiers, contrary to the Geneva Convention. Two of the witnesses say they saw a tall soldier kick Ali Jan off the cliff before hearing gunshots. The witnesses say they later saw gunshot wounds to Ali Jan's face and body.
Lawyers for the media outlets asked the court at the closure of Mr Roberts-Smith's evidence last week if the Afghan witnesses' testimony could be brought forward in light of the worsening security situation, but Justice Anthony Besanko opted for a longer adjournment to avoid the disruption of a stop-start timetable.
The media outlets are considering whether to ask when the case briefly appears in court on July 19 for the evidence by the Afghan witnesses to be brought forward. Hearings are not due to recommence until July 26.
Australian National University Professor William Maley, who specialises in Afghan politics, said Afghan towns that had fallen were now subject to strict totalitarian control, the women had been locked away and the Taliban were "on a roll".