And with that, we'll close things off there for the session. Thanks for tuning in to Markets Live today, and this week.
Good luck to our readers in Sydney. You can do this!
Alex Druce and Lucy Battersby will be back on Monday.
Get our wrap of the day on the markets, breaking business news and expert opinion delivered to your inbox each afternoon. Sign up for The Sydney Morning Herald's here and The Age's here.
The tightening of Sydney's coronavirus lockdown on Friday knocked the wind out of an Australian sharemarket that was already stumbling thanks to a downturn in global investor sentiment.
The ASX 200 suffered its worst session in nearly three weeks as a worrying bump in coronavirus cases forced NSW Premier Gladys Berejiklian to tighten restrictions across the Greater Sydney region.
The index fell by as much as 1.6 per cent – shedding $35 billion – as the nation's biggest city fights to keep a lid on the highly contagious Delta variant.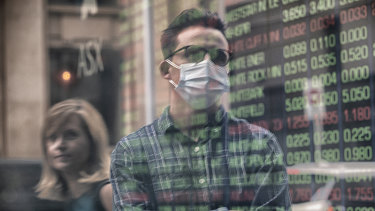 JP Morgan Asset management Kerry Craig said local investors had so far been happy to look through the ongoing Sydney lockdown, but were now realising the temporary restrictions could be here for a while yet.
"It's not that the horse has bolted, but it is the realisation that this could take longer and that restrictions might have to be more severe to contain it," he said.
Stocks trimmed losses into the close to finish 0.9 per cent lower at 7273.3.
The index dropped 0.4 per cent for the week.
Energy stocks offered a little resistance thanks to improved oil prices but there was little else to cheer about at the top of the market.
Technology and payment firms were savaged, with Zip Co dropping 5.5 per cent to $8.30 and Afterpay losing 5 per cent to $117.51.
The major banks, retailers, and travel stocks also slipped into the red.
In truth, the market was already under a cloud before the session began, with global markets selling off on a downbeat outlook for the global economy.
Bond yields have sagged on growing anxiety that the spread of Covid-19 variants will hinder the rebound from the pandemic
Mr Craig said this was usually a positive for riskier assets, but had only tempered the reflation theme and the notion that everything was getting better.
"I think a lot of it is miscommunication from Central banks around when interest rates are going to rise, and the tapering of bond purchases," Mr Craig said.
"They're pushing this idea that they're going to start raising rates, but not everything in the economy is perfect yet.
"All of this comes at a time when people can see that the coronavirus is still around, they're seeing case numbers go up, some of the business survey numbers are rolling off their highs.
"So the market is trying to digest that."
It has been a volatile two weeks for equities in the wake of the US Fed's hawkish pivot on monetary policy but investors have still appeared determined to focus on the positives.
Wall Street celebrated a run of record highs this week and the ASX 200 remains 1.5 per cent off its all-time peak set about three weeks ago.
Mr Craig said it was important to remember markets were still highly-priced and therefore the current dip may be no more than a temporary wobble.
"There's still a lot of liquidity, iron ore prices are strong, and the alternatives still aren't that attractive," he said.
"It's a soft patch, I'd say. Because it's important to remember we will see the end of this, eventually, and we will see a rebound in consumption after the lockdown, which feeds into economic growth
"So maybe what we're seeing is people just taking profits out of the market as they wait to see what happens."
The Australian sharemarket suffered its worst session in nearly three weeks as Sydney's worsening COVID situation exacerbated an already jittery landscape for global equities.
The ASX 200 fell 0.9 per cent to close at 7273.3. The loss dragged the market to a weekly decline of 0.4 per cent
European and US markets dropped overnight as investors begin to doubt the strength of the global economic rebound amid a surge in the highly contagious Delta variant of the virus.
The local index dropped by as much as 1.6 per cent on Friday – shedding $35 billion – after a worrying bump in coronavirus cases forced NSW Premier Gladys Berejiklian to tighten restrictions on the Greater Sydney region.
The Federal Court has ordered the company at the centre of an alleged $250 million fraud against banking giant Westpac be placed into liquidation, while the exact whereabouts of its football personality director remain unknown.
Sydney-based Forum Finance allegedly used false invoices and forged signatures to obtain Westpac loans without the consent of at least seven of the major bank's corporate clients. Westpac has pursued legal action to have the company liquidated in the hope of recouping losses that could run into the hundreds of millions of dollars.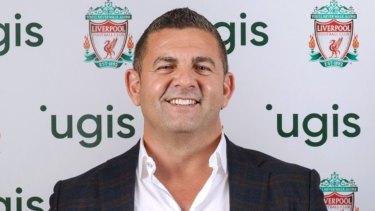 Forum Finance's director Basile Papadimitriou, the former Sydney Olympic president commonly known as Bill Papas, has missed court deadlines, failed to challenge any of the allegations against his company and refused to tell his own lawyers of his exact location, the court heard.
In making the decision to appoint liquidators to Forum Finance, Federal Court Justice Michael Lee said on Friday there were "real concerns" around Mr Papas' ability to run the company. "Neither Forum Finance nor its directors have provided any explanation, coach or otherwise, for what appears to have happened.
"It appears Forum Finance has by some means or another, been involved in a long-running, calculated and elaborate fraud which would rank high in the catalogue of corporate malfeasance," Justice Lee said. "We have not heard from the man who appears to be primarily responsible."
Webjet was the worst performer on the ASX 200 this afternoon, dropping 6.1 per cent as Sydney's worsening COVID situation darkens an already bleak mood for travel stocks.
The sector was predictably subdued as NSW Premier Gladys Berejiklian tightened restrictions on the nation's largest city following 44 new coronavirus cases this morning.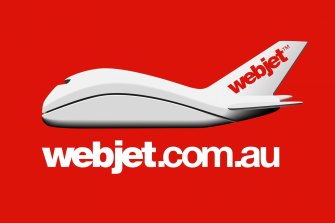 Travel stocks have become somewhat of a proxy for the nation's mood on the coronavirus outlook, with a spike in cases usually prompting restrictions or border closures that could disrupt plans or dissuade people from booking.
Webjet was last 6.1 per cent down at $4.93, while Flight Centre was 4 per cent lower at $15.28.
Corporate Travel fell 3.8 per cent to $20.61, and Helloworld Travel fell 3.1 per cent to $1.715.
Airlines, airports, toll roads and hospitality firms were also subdued.
Greater Sydney's two week-lockdown had on Wednesday already been extended by another week, with residents now facing the possibility of an extended curfew if the virus is not brought under control.
Residents in Sydney, the Central Coast, Blue Mountains, Wollongong and Shellharbour have been asked not to leave the house unless absolutely necessary, and are now subject to new rules on outdoor exercise, carpooling, shopping activity, and funeral sizes.
Port-to-door operator Silk Logistics popped on its ASX debut this afternoon, jumping 24 per cent above its IPO price.
The company – which provides wharf cartage, warehousing, and distribution services around the country – hit the boards at noon after raising $70 million at $2 per share.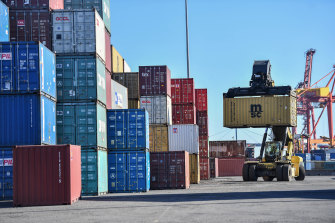 Shares in the firm quickly rose to $2.48 and were still 22.5 per cent ahead at $2.45 by 2.30pm AEST.
Silk said the $70 million raising – which helped facilitate the partial equity sell-down of its longstanding financial partner and investor, Tor Investment Management – had been well-received by institutional and retail investors.
The company's market capitalisation upon listing was $151 million.
The company generated total pro forma revenue of $258.4 million in the 2020 financial year and delivered compound annual growth of 19 per cent for the prior six-year period.
In FY21 Silk said pit expects to achieve its prospectus pro forma forecast earnings of $17.8 million.
Silk's FY22 prospectus earnings forecast is $20.9 million.
Zeng Yuqun, the founder of the world's biggest electric-vehicle battery maker, has overtaken Jack Ma in the wealth rankings, a symbolic moment in the rise of China's green billionaires.
Zeng's net worth has jumped to $US49.5 billion ($66.7 billion), according to the Bloomberg Billionaires Index, as shares of Contemporary Amperex Technology (CATL) surged this year. That exceeds Alibaba Group co-founder Ma's wealth of $US48.1 billion and makes Zeng one of the five richest people in Asia for the first time.
It's the latest sign of how a new generation of tycoons in China is amassing vast fortunes in the clean-energy boom. Investors have pushed up stocks such as CATL, a key supplier to Tesla, as the country leads the market for electric-vehicle sales and pursues an ambitious policy of reaching carbon neutrality in 2060.
"The billionaire ranking used to be dominated by real estate tycoons and later tech entrepreneurs, and now we are seeing more from the new energy sector," said Hao Gao, director of Tsinghua University's NIFR Global Family Business Research Centre. "As the industry leader for electric-vehicle batteries, CATL will benefit most from the carbon emission goal."
A spokeswoman for CATL declined to comment on Zeng's net worth.
Zeng, 53, who hails from a hillside village in Fujian province in southeast China, built CATL into a battery juggernaut in less than a decade, creating the largest global producer of rechargeable cells for plug-in vehicles.
Global electric-vehicle battery sales more than doubled in the first four months of this year from a year earlier, with CATL accounting for 32.5 per cent of the market, the largest share, according to an SNE Research report. New-energy vehicle retail sales in China rose 9.8 per cent in 2020 to 1.11 million units, according to the China Passenger Car Association.
Bloomberg
Crown Resorts has claimed it could default on its debt if Victoria's royal commission makes negative findings against its Melbourne casino licence with "severe consequences" for shareholders and thousands of employees.
The casino giant's executive chairman Helen Coonan on Thursday denied the company was trying to interfere with the inquiry when it wrote to Victoria's gambling minister Melissa Horn last week warning it was "not in the public interest for Crown to fail".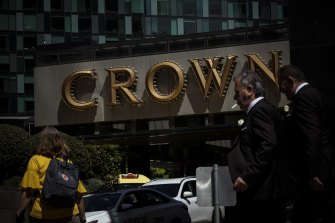 A redacted version of Ms Coonan's letter was made public on Friday morning, and shows Crown told the minister that the jobs of 12,000 people who work at its Southbank complex could be at risk if there was a negative finding against it.
Commissioner Ray Finkelstein is considering whether Crown is fit to hold it licence for the Southbank casino, after an inquiry in NSW ruled in January it was unsuitable to run its new Sydney casino.
References to any particular outcome from the inquiry were redacted in the letter, but it appears to contemplate the $8 billion ASX-listed group losing its licence.
The letter goes on to say that Crown would be at risk of breaching its lending covenants as a result of a negative ruling in, and makes reference to conditions attached to around $700 million of company debt.
"If there is an EOD [event of default] it may have severe consequences for Crown and all its stakeholders," the letter from Crown's lawyer, Arnold Bloch Leibler partner Leon Zwier, says.
"This will impact on Crown's shareholders, employees, unions, trade creditors, patrons, the hotel precinct and the Melbourne tourism industry."
After a couple of hectic days it's all quiet on the Boral front.
As indicated by the lower share turnover on Thursday Kerry Stokes' Seven Group has not materially changed its stake after yesterday's lurch from 35 per cent to 41 percent.
Boral has also kept some of its buyback in reserve for a final push to the July 15 deadline for Seven's $7.40 bid.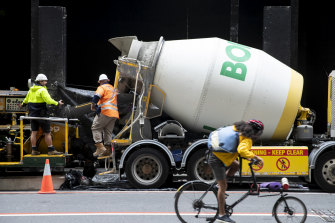 The building products group's ASX notice this morning showing it acquired 3.2 million shares on market yesterday and it has the capacity to buy back another 8.6 million before exhausting the current facility.
Seven is expected to push for an additional two board seats – adding to the seat of Seven Group CEO Ryan Stokes – when the dust settles to match its current shareholding.
Boral shares were up 0.1 per cent to $7.40 on Friday, bucking a wider market slide, while Seven Group was trading 0.4 per cent higher at $21.30.
Billionaire retailer Solomon Lew has announced he will call Myer shareholders in for an extraordinary general meeting in an effort to force the resignation of the company's three remaining non-executive directors.
Mr Lew's investment company Premier Investments announced on Friday it had instructed its lawyers, Arnold Bloch Leibler, to request a copy of Myer's shareholder register with a view to contact the company's investors and garner support ahead of calling a meeting of shareholders.
Premier, which now holds 15.8 per cent of Myer shares after upping its stake earlier this week, has also commenced consultation with Myer's other shareholders over reconstituting the retailer's board, indicating Mr Lew believes he has the required support to depose the company's remaining directors.
"Premier has commenced consultation with fellow Myer shareholders regarding the quick reconstitution of a majority independent Myer board with the necessary skills and experience," Premier said in a statement.
Premier has also retained a proxy firm to collect proxy votes from investors ahead of the EGM. Once Myer is provided notice of intention to call an EGM, the company has 21 days to call one.
However, Mr Lew and Premier appear to be hoping to force Myer's directors out without needing to take it to a vote, with the company again calling for the board to "resign immediately".
"In Premier's view, Myer's three remaining non-executive directors should for once put its shareholders first and resign immediately. Any other action would be futile, and costly for Myer shareholders who have endured enough," Premier said.