Concussion and interruptions to the competition because of COVID have limited his games tally in the VFL.
"It's about timing and everything else. The Bulldogs know when is best for him, they're the ones next to him and know what he is capable of through the VFL," said Brisbane Lions triple-premiership player Chris Johnson, whose son Lachie (on Essendon's AFL list) is close with Ugle-Hagan.
"He has gone No.1 and he sees everyone else around him getting games and it was just a matter of time."
Ugle-Hagan briefly stayed with Johnson in his draft year of 2020 when lockdown made it difficult to go between training with the Dogs in Melbourne and home in Victoria's south-west.
"His mum Alice is going to be pretty stoked," Johnson said.
"He's like most 18 or 19-year-olds, he is very grateful of his opportunity. He, at times, can be down to earth and other times he can be quite confident. That's what you like about a kid. He is going to adapt. He is undersized at the moment but once he gets the size he will be fine. He doesn't mind the physicality."
He will be the Bulldogs' sixth debut player in 2021, following Anthony Scott, Lachie McNeil, Jordon Sweet, Buku Khamis and Riley Garcia – extremely promising given the side sits atop the ladder.
Bulldogs coach Luke Beveridge has been protective of Ugle-Hagan in the press, regularly bristling at repeated questions about the player when asked by journalists.
"Can you guys listen to press conferences so you don't keep asking the same questions, because I've answered this question," Beveridge said in May. "It seems like I'm getting defensive but I'm answering the same question (about when Ugle-Hagan would debut) every time."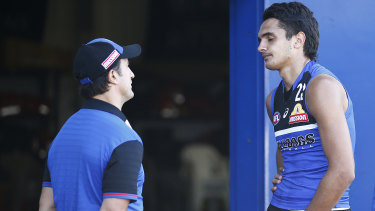 Beveridge has said on numerous occasions that, while Ugle-Hagan had been in goal-kicking form, there were other areas in his game he needed to work on before making his debut.
Ugle-Hagan told his teammates in a club video after he'd been picked on Thursday that he was emotional getting the call up.
"Obviously it's been tough scrapping through the VFL and doing my best," he said.
Loading
"It was a good opportunity to play for them [Footscray VFL] because you get to learn new characters and you obviously get to join a new team and it's a challenge."
He also rejected a report he could be traded from the Dogs.
"And all this talk about trading and stuff, it's obvious that's all bullshit because I'm not going anywhere," he told his teammates.
Suggestions that Ugle-Hagan might not be working hard enough, and thus his delayed debut, did not add up given Harris' memories of the player as a junior.
"He was always a hard worker," he said.
"And he has always been very switched on. His ability to want to learn is also another great attribute."
Johnson said of potentially handing over some wisdom to Ugle-Hagan: "He doesn't need my advice. He has his father giving him advice and lots of others. If he puts it all together he will be an elite footballer for a long, long time."
Keep up to date with the best AFL coverage in the country. Sign up for the Real Footy newsletter.