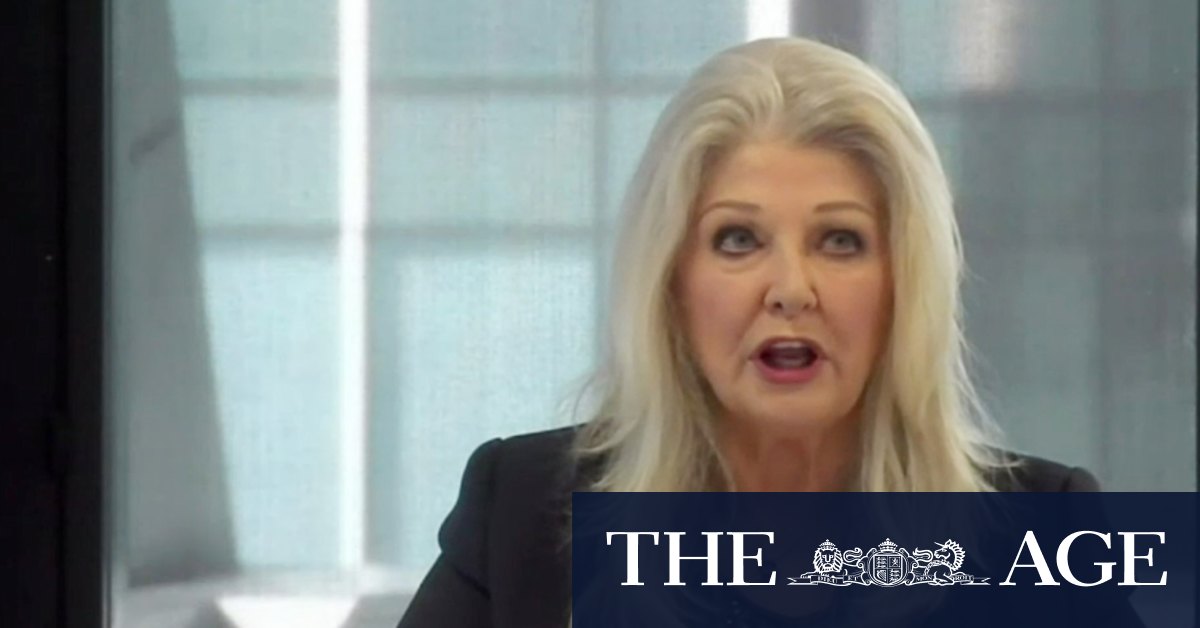 Earlier in the day, Coonan said she was still acting in the spirit of the "old Crown" as recently as January when she failed to cooperate with a regulator's investigation into the casino giant.
Loading
Ms Coonan, a former Howard government minister who has been a director at Crown since 2011, has pledged to "reform" Crown after it was found unfit to hold a casino licence in NSW in February and now faces royal commission in Victoria and Western Australia.
But Mr Finanzio challenged the pace of that reform on Thursday, raising a letter signed by her to the Victorian gambling regulator in January about its investigation into the arrest of staff in China in 2016, which "argued every issue" and did not accept "basic propositions of fact".
"You've been talking at this stage about a reform agenda and review since your time in the witness box at Bergin [in October 2020]. Then with the very next breath… the company's behaving in exactly the same way," Mr Finanzio said.
"It suggests, doesn't it, that change of the kind that is required here doesn't happen quickly?"
Ms Coonan said Crown's reform could not happen until most of Crown's board – including those aligned with major shareholder James Packer – and several senior executives resigned in February following the Bergin Inquiry's final report.
That had "enabled the remaining directors to get control of the company and take a different approach", she said.
"A real change in approach wasn't possible with old management and old Crown," she said. "It's not satisfactory I'm not defending it, I'm simply explaining it."
The Victorian regulator's final report into the China arrests, released in May this year, blasted Crown for being "unnecessarily belligerent" and withholding information it requested for its investigation.
Ms Coonan said Crown was acting on the legal advice of Minter Ellison partner Richard Murphy to take a defensive and unrepentant approach to the Victorian regulator and with the Bergin Inquiry, which the board backed.
This was the wrong course to take but, "short of leaving", she could not contradict what the Crown board decided even though she was the chair, she said.
"I thought we had to be taking a very different approach but I was overruled, of course," Ms Coonan said. "You still have to have numbers on a board even if you're the chair."
The NSW inquiry was set up to investigate reports by this masthead in 2019 exposing that Crown had been infiltrated by organised crime, had enabled money laundering, and took huge risks doing business in China that resulted in 19 staff being arrested and jailed there.
Ms Coonan agreed on Thursday that the board took its defensive position even though it had not conducted a fulsome investigation into whether the reports were true.
Ms Coonan became the executive chairman in February when Mr Barton resigned following the Bergin Inquiry.
The commission heard on Thursday that Crown had agreed to pay Mr Barton $1.5 billion to remain "available" for six months after his resignation for advice on key matters.
That was despite the ASX release announcing his departure saying he would remain on for "weeks" and making no mention he would be paid.
Ms Coonan meanwhile highlighted Mr Barton's departure as being part of Crown's "reform" program in meetings with the Victorian regulator.
Mr Finanzio asked if Crown was trying to get regulators and the public onside by announcing his departure, while at the same "secretly obtaining his advice and assistance in relation to critical matters?"
Ms Coonan said the deal was "not secret" and was a standard way of departing with key executives.
"Otherwise you end up with just another lot of litigation to deal with because people feel aggrieved about leaving, don't always agree to go voluntarily," she said. "Litigation with departed executives is just about the last problem that Crown would want at the moment."
The inquiry, which is set to conclude its public hearings on Friday, continues.
The Business Briefing newsletter delivers major stories, exclusive coverage and expert opinion. Sign up to get it every weekday morning.