There is only one thing Lousie Day regrets as she takes her final ride as an apprentice at Randwick on Saturday, and that is that her mum and dad have never made it over from Ireland to see her ride.
The 26-year-old has been separated from family because of the COVID-19 pandemic for the past couple of years, but the situation has also taken her career to a level she didn't think was possible.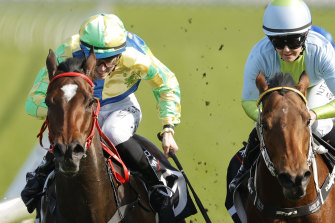 When biosecurity restrictions came in to racing last year that forced jockeys to nominate a particular area in which to ride, Day and her boss, Newcastle trainer Kris Lees, made a brave call.
"When Covid happened I had to make a decision to come down to Sydney," Day said. "I had to quarantine for two weeks and lose all momentum when no one had really heard of me down here, but my boss [Lees] gave me a winner on the Wednesday and the Saturday and it went from there.
"He was so good about it, and I have been back to help when I could, because it wouldn't have happened without him. I didn't think that I would get this far.
'I would have loved them to see me ride live. It has been tough, but they watch all my replays.'

Louise Day
"I'm really happy with what I have done [in my apprenticeship]. I never thought I would lose my three-kilo claim in town. The last year has been great for me."
Day's parents have watched her success on television from Ireland as she has become a regular in Sydney on Saturdays and ridden 18 winners in 2020-21 season to be second to fellow Irish apprentice Tom Sherry.
"I would have loved them to see me ride live," Day admitted. "It has been tough, but they watch all my replays."