Tszyu's handlers are confident of luring an opponent of that ilk to Australia as soon as September, with a win likely to set up Tszyu as a mandatory challenger in the super-welterweight division.
"We're well deep into next [options] and it will be an international," said Tszyu's manager Glen Jennings.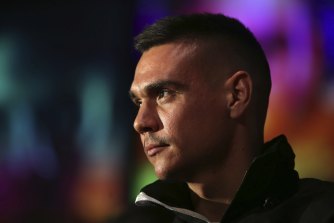 "It will be a top-10, most likely a top-five [opponent], quite possibly a former world champ.
"Right now the names that are on the list that we are deep in with are Liam Smith of the UK, Danny Garcia is now on our list and Tony Harrison from the USA.
"Georgie [promoter George Rose] would be happy to say we're going to try to get this on in Australia in September.
"It's exciting, really exciting.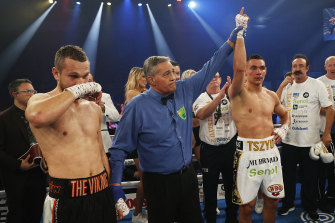 "It's a bit of a milestone for us tonight because technically we're now done domestically and we're moving onto the international stage. It's a great feeling for all of us.
"They all know who Tim Tszyu is over there."
Spark won plenty of admirers for taking the fight at short notice, stepping up two weight divisions to do so. However, the disparity in class was evident from the outset. Tszyu was the physically bigger man and he walked through Spark's best punches to land his own at will.
It was the sort of performance expected of the top-ranked WBO junior welterweight and a warning to the division.
The fight was beamed to an American audience via ESPN+ and Tszyu believes he is making a statement to potential opponents.
"I get rid of my opponents quite early now, I hurt them," Tszyu said.
"It's a risky fight for them as well."
Loading
Charlo has indicated he will go up a weight division after the Castano clash, which he is favoured to win. Regardless, Tszyu believes he is ready for a championship belt.
"He's got to be pushing for that world title challenge," Rose said.
"It's a fight the top guys don't want because Tim is a dangerous guy.
"He's the best super-welterweight in the world and that's what we want. We want that world title fight. If we can't get that, it's another international."