Singapore: The Japanese government is set to ban spectators from attending Olympic events in Tokyo, as the capital races to get surging coronavirus infections under control and prepares to enter another state of emergency.
The decision is expected to be announced on Thursday night, according to the Asahi Shimbun, after a meeting between the government, the International Olympic Committee and their health advisors.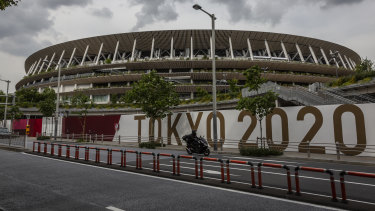 Venues in Tokyo, Kanagawa, Chiba, and Saitama prefectures will be "completely unattended", the newspaper reported citing government sources. The four areas which span metropolitan Tokyo and its surrounds are home to all the major Olympic venues, including the Olympic Stadium where the athletics will be held and the Tokyo Aquatics Centre, where the swimming will begin on July 24.
Tokyo will become the first Olympic Games to be held under a state of emergency as businesses flout restrictions and cases rise. The city recorded 920 new cases on Wednesday, its highest since May 13. The figure included two staff working in the athletes' village. The city's fourth state of emergency is set to last until August 22.
Yasutoshi Nishimura, Japan's coronavirus response minister, said on Thursday the number of cases was continuing to rise in Tokyo after local media Nikkei and Kyodo reported that the state of emergency would be re-introduced.
"People are moving around more and the Delta variant, which is highly infectious, is accounting for about 30 per cent of cases," he said.
Loading
The Japanese capital emerged from a state of emergency on June 20 and Olympics organisers were hopeful of allowing 10,000 domestic fans to attend – or 50 per cent capacity – but those prospects appear to have been dashed.
Authorities have been reluctant to enforce stay-at-home orders or closures of non-essential businesses. Beyond limits on spectators, the state of emergency is expected to largely target alcohol sales by stopping bars and restaurants selling drinks to prevent transmission indoors. Those measures have also been loosely enforced.