Here's a recap of the day so far if you're just tuning in:
There have been a significant number of new venue alerts added the state's list of exposure sites this afternoon, mostly located in Sydney's west. They come after NSW today recorded 44 new COVID-19 cases, with 19 of them out in the community while infectious.
Anyone who attended the following venues is a close contact and must immediately get tested and isolate for 14 days:
Burwood, Oporto, Westfield on Sunday from 1pm to 1.05pm
Tempe, IKEA on Tuesday from 10am to 9pm
Revesby, Terry White Chemmart on Tuesday from 8am to 3pm
Liverpool, Speed Medical Practice on Wednesday from 11.15am to 1.45pm
Homebush, Decode Group Construction Excavation site on Wednesday from 7am to 3pm
St Andrews, St Andrews Pharmacy on Wednesday from 8.30am to 3.30pm
Wetherill Park, Wetherill Park Medical Centre on Wednesday from 1.45pm to 2.30pm
Anyone who attended the following venues is a casual contact who must immediately get tested and isolate until a negative result is received:
Randwick, Bunnings on July 1 from 4.30pm to 5.30pm
Miranda, Service NSW on July 2 from 1.30pm to 2pm
Matraville, 7-Eleven on July 2 from 3.15pm to 4.45pm
Mt Druitt, Woolworths on Saturday from 5.15pm to 5.45pm
Kareela, Coles on July 2 from 5pm – 10pm and July 3 from 5pm to 10pm
Pagewood, Kmart, Westfield Eastgardens, on June 25 from 12.55pm to 1.15pm and July 3 from 4.20pm to 5pm
Taren Point, McDonalds on Sunday from 9.10am to 9.30am and Monday from 1.35pm to 1.55pm
Burwood, Westfield Burwood on Sunday from 11.50am to 1.10pm
Burwood, Kmart on Sunday from 11.50am to 12.35pm
Hoxton Park, Bunnings on Sunday from 4.25pm to 5pm
Campbelltown, 1825 Interiors on Sunday from 1.35pm to 1.50pm
Campbelltown, Johnny's Furniture on Sunday from 1.55pm to 2.15pm
Campbelltown, Oz Design Furniture on Sunday from 2.15pm to 2.40pm
Campbelltown, Fair Price Furniture on Sunday from 2.40pm to 2.50pm
Campbelltown, Nick Scali Furniture on Sunday from 2.50pm to 3.20pm
Campbelltown, Harvey Norman on Sunday from 3.25pm to 3.50pm
Campbelltown, Nick Scali Clearance Outlet on Sunday from 3.50pm to 4.05pm
Mosman, BP Connect, Corner Avenue Road and Cowles Road on Sunday from 3.15pm to 3.35pm
Burwood, Evergreen Fresh World, Burwood Plaza on Sunday from 5pm to 5.15pm
Liverpool, Tong Li Supermarket on Monday from 12.55pm to 1.10pm
Maroubra, Maroubra Beach Pavilion Beachfront Cafe on Monday from 2.30pm to 2.45pm and Tuesday from 2.30pm – 2.45pm
You can see the full list on the NSW Health website.
As we start winding down for the day, here are a couple of tasty explainers to sink your teeth into.
NSW has already recorded more COVID-19 cases in its latest outbreak than it did across the two months of the Avalon and Berala clusters over summer, and this time it is affecting young people at a much higher rate.
Our analysis of the first three weeks of the Bondi cluster against those in the Crossroads and Avalon and Berala outbreaks revealed children and people in their 20s and 30s made up more than half of recent infections.
But there is a sense of frustration among young people who are bearing the brunt of lockdown restrictions – and now case numbers – while being at the end of the queue to get vaccinated.
Georgia Rousselot, 25, lives with three other women in an inner-city share house with one bathroom. All four have had to work side-by-side from the dining room. They've been holding themed dinner nights to boost their moods and fight off feelings of claustrophobia.
"But it's been hard having to put life goals on hold and feel like it's another year lost because of COVID and no hope of it ending, particularly when you are unsure if you can see your family or not," Ms Rousselot said.
Travellers will be able to enter Victoria from parts of Queensland, Northern Territory and Perth from Sunday without having to quarantine or get tested after changes to travel permits.
Brisbane, Moreton Bay and parts of the Sunshine Coast will become an "orange zone", meaning travellers can return to Victoria from those areas but will need to stay isolated after arriving until they receive a negative COVID-19 test.
The following changes will take effect from 11.59pm Saturday:
Queensland: Townsville (including Magnetic Island), Palm Island, Ipswich, Logan, Redland, Gold Coast, Lockyer Valley, Noosa, Scenic Rim and Somerset will become "green zones". Brisbane, Moreton Bay and parts of the Sunshine Coast will change from "red zones" to "orange zones".
Western Australia: The Perth and Peel regions will move from "orange zones" to "green zones", meaning all of Western Australia will become a "green zone".
Northern Territory: Alice Springs and Greater Darwin will move from "orange zones" to "green zones", uniting the whole territory as a "green zone".
Green zone travellers still need to get a permit to enter Victoria.
All local government areas in Greater Sydney, including Central Coast, Blue Mountains, Shellharbour and Wollongong, remain "red zones" meaning non-residents can not enter without an exemption.
The ACT and regional NSW, including the areas inside the NSW cross-border community, remain "orange zones".
For much of last year, Victorians in lockdown had four permitted reasons to leave home. Or, in the eyes of many couples, one very good reason to stay home.
The number of babies born in Victoria has boomed over the past year, at an average of 5.7 per cent across the state but by as much as 50 per cent in some areas. Births have skyrocketed in particular in the regions, which make up seven of the top 10 baby boom areas.
Melburnian Hannah Martin gave birth to her first child Soren two days ago. Was this timing always the plan or did the pandemic play a role?
"Oh, he's absolutely a COVID baby. Yeah, no doubt. We just thought well, we're going to be stuck here for a few years, not going overseas, the time's right. But we're very happy with the timing."
One development in the Sydney outbreak over the past few days is the number of people in ICU and on ventilators, including some under the ages we might expect to see in intensive care.
Today, there are 43 people in NSW hospitals with COVID-19, including seven under the age of 35.
Ten people are in intensive care, including four on ventilators. Of the 10 people in ICU, one is in their 20s, one is in their 30s, one is in their 50s, five in their 60s and two in their 70s.
While there's one less person in ICU today than yesterday, there's also one more person on a ventilator, with the total intubated growing to four since the first two were placed on ventilators on Tuesday.
Between June 22 and June 30, there were between zero and two people in ICU. Numbers in hospital with COVID-19 over the same period were below 10.
Yesterday, there were 11 people in the ICU (27 per cent of hospitalisations) including three on ventilators; on Wednesday it was seven (19 per cent) with two on ventilators and on Tuesday it was six (23 per cent) and two ventilated.
One thing to note is some positive cases were taken to hospital as a precaution, such as the Baulkham Hills aged care residents – most of whom were vaccinated.
We'll keep track of these numbers which are likely to grow as the outbreak does.
The ACT has tightened its Sydney travel restrictions in light of the city's growing COVID-19 outbreak.
From midnight tonight, anyone entering the territory who has been in Greater Sydney, the Blue Mountains, the Central Coast, Wollongong or Shellharbour will be subject to strict quarantine for 14 days.
Currently, people who are allowed to enter from Greater Sydney are subject to stay-at-home orders and are allowed to leave their homes for essential purposes.
But after midnight that will change meaning people entering from affected areas in NSW can only leave their homes in an emergency or for essential medical care. Other activities, such as leaving to work, study, buy food or exercise, will not be allowed.
People entering the ACT, including residents, must also complete an online exemption prior to their travel.
"Non-ACT residents continue to be unable to enter the ACT without an approved exemption," a statement from ACT Health said.
"In light of the increased risk posed by the spread of COVID-19 in Greater Sydney, ACT exemptions will only be approved in highly exceptional circumstances.
"If people do not have suitable premises to quarantine in, they will be required to quarantine in a hotel at their own expense."
The mask mandate will also be repealed at midnight.
Here are the main things from that press conference following national cabinet, including a few things we haven't mentioned yet:
National cabinet agreed to make vaccinations compulsory for aged care workers. Victoria was excluded from this as its legislation requires the decision be made by the chief health officer, not the premier. Vaccinations for disability workers are strongly recommended, but not mandated.
South Australia will conduct a pilot program of home quarantine for returned overseas travellers from "low-risk countries".
JobKeeper will not be brought back to support NSW through its ongoing lockdown, but further financial assistance wasn't ruled out.
There are 29 facilitated commercial flights scheduled to land in Darwin, meaning about 4000 people a month will quarantine at the federal Howard Springs facility.
From 16 July, international arrivals will declare their vaccination status. For people seeking an exemption to depart Australia, there will be a "strong preference" for them to be vaccinated if possible.
The federal government will use advice from the Doherty Institute to help determine the vaccination rate needed to gradually open Australia's borders under the previously announced four-phase plan.
A new advertising campaign for the nation's vaccine rollout will begin on Sunday.
The Prime Minister rejected a question asking whether he was at fault for Sydney's lockdown due to the slow vaccine rollout.
Mr Morrison said only Israel had levels of two-dose vaccination above 65 per cent. Australia is at about 8 per cent.
"It was always known at this time of the year – in July of this year – that we would still be in the suppression phase and that means that in the suppression phase you need to keep your systems as tight as possible," he said.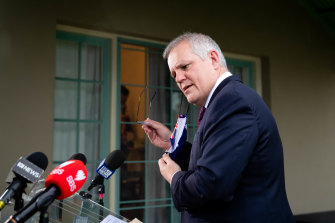 "We've had breaches here, there have been breaches in other places, and when there are breaches it's about trying to contain it as quickly as possible … which is what the NSW government is doing."
Mr Morrison was also asked when under-40s would be eligible for the Pfizer vaccine, but he provided no clear timeframe and deferred to vaccine taskforce commander Lieutenant General John Frewen.
"Both decisions at the moment have not changed in terms of the age eligibility and they will be considered further based on the supply by Lieutenant General Frewen in concert with the medical advice that he receives," Mr Morrison said.
"Right now our focus remains on getting people who are aged over 70 vaccinated."
Mr Morrison has maintained the federal wage subsidy will not return amid the Sydney outbreak, but he did not rule out providing further financial assistance.
"We are not bringing back JobKeeper," the prime minister said, noting the $500 COVID disaster payment was the same level as JobKeeper when it ended in March.
"When we introduced JobKeeper, we were looking at 1 million people losing their job. Now, the labour market nationally – and even still here in NSW – is strong. And so long as we can get on top of this in a reasonable period of time, then we anticipate that the economic impacts of this can be mitigated."
"We will keep working with the NSW government and I was talking to their treasurer today on what may be required, pending further decisions the NSW government may have to make to suppress this latest outbreak.