Only one word gave her any real trouble, "nepeta", a genus of Old World mints, and she jumped even higher when she got that one right than she did when she took the trophy.
"I've always struggled with that word. I've heard it a lot of times. I don't know, there's just some words, for a speller, I just get them and I can't get them right," she said. "I even knew it was a genus of plants. I know what you are and I can't get you."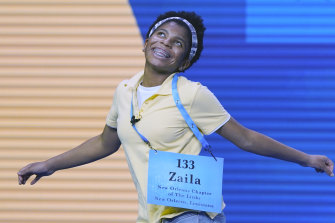 Zaila only started spelling training in time to qualify for the 2019 bee. But there isn't much typical about a basketball prospect whose first choice for college is Harvard and wants to work for NASA if she doesn't go pro in hoops. Her father, Jawara Spacetime, gave her the last name Avant-garde in tribute to jazz great John Coltrane.
Chaitra Thummala, 12, of San Francisco, came in second after misspelling "neroli oil", but still takes home $US25,000.
Bhavana Madini, 13, of New York finished third with the $US15,000 prize ($20,000), after being eliminated on "athanor", a type of furnace.
This bee was different from any that came before because of the coronavirus pandemic, which led to the cancellation of last year's event. It was moved from its usual location just outside Washington to an ESPN campus in Florida, and only the top 11 spellers competed in person. Previous rounds were held virtually.
Only spellers' immediate families were allowed to attend, in contrast to the hundreds of fans and former spellers who normally pack the bee ballroom. There was, however, one high-profile fan in attendance: first lady Jill Biden.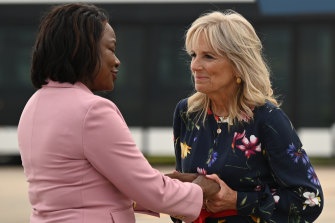 US first lady Jill Biden, an English professor at Northern Virginia Community College, took part in the 2009 bee. The seasoned public speaker told this year' spellers she was once crippled by stage fright.
"In sixth grade I was my school's spelling bee champion. I had a chance to go to the next level, but on the day of the regional competition, I told my mother that I was sick," Biden said. "The truth was that I was too nervous to go, so I have incredible admiration for each and every one of you."
AP, Reuters