When her family reached out to MLC Life, which was previously owned by National Australia Bank but is now part of Japan's Nippon Life Insurance Group, they were told the policy was a term life policy, which meant "cover is guaranteed renewable for a set period of time or 'term' (in this case, until 2036). It is not a whole of life policy, meaning there is no surrender value. It is also not a "paid up" policy. Therefore, this means that for a term life policy, premiums will remain payable for as long as the policy is in force. There is no option to cease or pause payments without affecting the currency of the policy."
MLC Life proceeded to blame the adviser but continues to bank the premiums."Financial advice is a confidential matter between the adviser and their client, and we are not privy to the advice given," MLC said.
This is despite the application form being scrutinised and accepted by an MLC underwriter, which included details of her state of health, her pension status and annual income.
The problem is systemic.
Life insurance lawyer John Berrill from Berrill & Watson Lawyers was asked by The Sydney Morning Herald and The Age to assess the product, Pam K's application form and MLC underwriting agreement, and was appalled.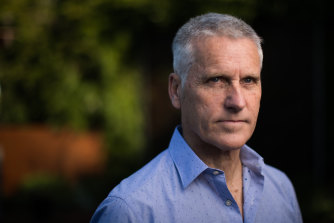 "These types of products are never appropriate to be sold to people over a certain age," he said. "In what universe is this an appropriate product to be sold to a 70-year-old?
"MLC Life is responsible for the product design and putting this product into the market without an age cut-off," he said.
Berrill, who has assessed hundreds of insurance policies over the years, said the flaw was selling a policy with increasing sums insured without an age cut-off.
"MLC Life tries to wipe their hands by saying the financial adviser is to blame but it is their product design," he said.
Loading
"How can such a product be appropriate to sell to people who are retirees? The risks are too high. There is an obvious disconnect between the premiums you start with and keep paying."
Berrill believes it is incumbent on the industry to clean up these types of products and set up remediation programs instead of simply closing the products to new sales.
He said the Australian Securities and Investments Commission (ASIC) had an obligation to look at legacy products. "The royal commission was a wake-up call to look at products sold a long time ago because the products are old but the consequences are current."
He said ASIC needed to look at institutional remediation programs as part of its review.
The MLC product was closed to new sales in 2011 but the company said it continues to offer similarly featured products to new customers advised by licensed financial planners.
It declined to reveal how many people at retirement age had been sold these products over the years or the amount it had earned in premiums from this cohort of retired people. In a statement, MLC said it was a "modest proportion of new policies issued" and that between 2018 and 2021 "new customers in this age group comprised for us less than 1 per cent of new policyholders and 0.4 per cent of total sums insured."
It followed up with the statement, "to give you a proportionate sense having regard to more recent figures for our current and equivalent on-sale product, we have had circa 400 new policies with death cover incept for this age group since 2018, from a total number of around 44,000 new policies commenced with death cover."
When Pam K asked for help, nobody listened. "I have sought assistance to find a solution to this from government bodies, a cabinet minister, executives at MLC, NSW Law Society, law firms and NSW Fair Trading without success. No one is interested in supporting the elderly these days – our voting lifetime is limited," she said.
The Australian Financial Complaints Authority (AFCA) was unable to assess her case as it dates back more than six years, a bugbear of many legacy policyholders.
The royal commission into financial services completed its report in 2019, which showcased a litany of poor advice and shoddy products motivated by greed and a failure to acknowledge mistakes. It seems little has changed.
The Market Recap newsletter is a wrap of the day's trading. Get it each weekday afternoon.