I'm handing the blog over to my colleague Amelia McGuire for the rest of the afternoon.
To recap: NSW reported 50 new coronavirus cases this morning and the Premier warned "things will get worse before they get better" in Sydney's growing outbreak.
Thirty-seven of the cases were in the community for at least some of their infectious period, including 26 who were in the community for all of their infectious period.
Chief Health Officer Dr Kerry Chant said there were now 47 people in hospital with COVID-19. Overnight, a teenager was admitted to an intensive care unit.
The total number of people in ICU is now 16, including five on ventilators. One other ICU patient is in their 20s and one is in their 30s. Dr Chant said people were being admitted to hospital without other significant underlying health issues.
Neither Queensland nor Victoria recorded any new cases in the community.
We'll continue to keep you posted throughout the day.
NSW Health Minister Brad Hazzard has amended the Public Health Order to include additional requirements on mask wearing, and restrictions on entering Greater Sydney.
From Tuesday, July 13, masks will be required in all indoor common property areas of residential premises in Greater Sydney. This means those who live in apartment blocks will be required to wear a mask when travelling in a lift or through the lobby of their residence.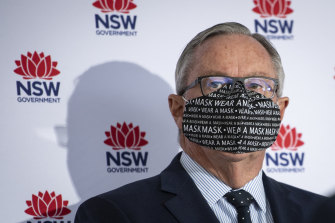 Masks are now required in all indoor areas of construction sites throughout NSW.
Additional restrictions on entering Greater Sydney also apply. A person can no longer enter Greater Sydney for the purpose of exercise or outdoor recreation.
A person is now only able to enter Greater Sydney for the purpose of obtaining goods or services if those goods or services are not reasonably available outside of Greater Sydney.
From Sunday July 11, individuals will only be able to enter Greater Sydney for a funeral, memorial service or gathering afterwards if there are no more than 10 persons in attendance (including the person conducting the service).
Those over the age of 18 who are leaving Greater Sydney must carry evidence showing their address and provide it to a police officer when requested.
For more information on the measures, please refer to the Public Health Order.
NSW Health has been notified of a number of new venues of concern which have been visited by confirmed cases of COVID-19.
Anyone who attended the following venues at the times listed is a close contact and must immediately get tested and isolate for 14 days, regardless of the result, and call 1800 943 553 unless they have already been contacted by NSW Health:
District Trade, Merrylands on Saturday July 3 from 2.20pm-2.50pm
Freshness 4 Less, Fairfield on Sunday July 4 from 12pm-1pm
Benedict Recycling, Chipping Norton on Monday July 5 from 10.50am-12pm
Barbeques Galore, Penrith on Tuesday July 6 from 3pm-3.15pm
Butcher Shed, Moorebank Shopping Centre on Tuesday July 6 from 1pm-1.15pm
Bupa Dental, Miranda on Wednesday on Wednesday, July 7 from 10.50am-12.10pm
Chemist Warehouse, Punchbowl on Thursday, July 8 from 9.20am-9.40am
Anyone who attended the following venues at the times listed is a casual contact
who must immediately get tested and isolate until a negative result is received.
Please continue to monitor for symptoms and immediately isolate and get tested if
they develop:
Morning Glory Cafe, Coogee Pavilion on Saturday, July 3 from 10.40am – 10.50am
MV Meat, Stockland Merrylands on Saturday July 3 from 5.05pm-5.15pm
Trim's Fresh, Stockland Merrylands on Saturday July 3 from 5.10pm-5.20pm
Centennial Homestead Cafe, Centennial Park on Saturday July 3 from 2.40pm-3.15pm
Ek'sentric Cafe, Maroubra on Sunday, July 4 from 11.40am-11.45am
Bunnings, Padstow, on Sunday, July 4 from 3.45pm-3.55pm
McDonalds, San Souci on Sunday, July 4 from 3.30pm-3.35pm
KFC, Menai on Monday, July 5 from 6pm-6.15pm
Chemistworks, Wetherill Park on Monday, July 5 from 11.30am-12.15pm
McDonalds, Menai on Monday July 5 from 1.40pm-2pm
Sydney Manoosh, Chipping Norton on Monday July 5 from 12pm-12.10pm
7-Eleven, Moorebank on Tuesday, July 6 from 9pm-9.15pm
Metro Petroleum, Revesby on Tuesday, July 6 from 2pm-2.05pm
Blackbird & Co, Sans Souci on Tuesday July 6 from 7am-7.15am or Wednesday July 7 from 8.20am-8.40am
Tong Li Supermarket, Carlingford on Wednesday July 7 from 3.30pm-3.45pm
Fruit World, Carlingford on Wednesday July 7 from 4pm-4.15pm
Ximi Vogue, Carlingford on Wednesday July 7 from 3.40pm-3.55pm
Woolworths, Carlingford Shopping Centre on Wednesday July 7 from 4.20pm-4.40pm
Oporto, Carlingford on Wednesday July 7 from 4.40pm-5pm
The Roll Japanese Restaurant on Wednesday July 7 from 4.3pm-4.45pm
ALDI, Miranda on Wednesday July 7 from 11.45am-12.15pm
Speedway Petrol Station, Bass Hill on Wednesday, July 7 from 2.30pm-2.35pm
Explainer reporter Sherryn Groch has delved into whether you should mix or match COVID-19 vaccines.
While I recommend checking out the whole article, it says there are studies that have found mixing vaccine brands may give you as much (or even more) immunity to COVID-19 than just sticking to two doses of one vaccine.
However, Australian authorities and other experts are waiting on real-world data before endorsing this approach.
Travellers to Western Australia from Tasmania who were in any of the locations visited by a confirmed COVID-19 case in the past 14 days will need to get tested immediately and self-isolate.
The updated restrictions come after a Launceston General Hospital worker tested positive for the virus two days after leaving the state and arriving in London.
The health worker and a colleague worked their last shift at the hospital on June 20 before spending some time travelling around the state.
WA Chief Health Officer Andrew Robertson said there was no evidence to suggest the worker had contracted the disease in Tasmania or been infectious in the community.
"We are simply erring on the side of caution," he said.
"The risk to the West Australian community is extremely low."
Anyone who has recently arrived to WA from Tasmania and visited any of the exposure sites in the past 14 days at the same time as the confirmed case should get tested immediately and quarantine until they return a negative test.
"Given the risk is extremely low in this case, people do not need to quarantine for 14 days," Dr Robertson said.
In case you missed it earlier this afternoon, Adrian Proszenko is reporting that the 12 St George Illawara players who broke NSW COVID-19 restrictions may immediately emerge from their forced isolation so that St George Illawara can field a competitive side against Manly next week.
The NRL has put forward a proposal to allow the "dirty dozen" to rejoin their teammates at training if they provide assurances that no other members of the public – including wives and girlfriends – were at Paul Vaughan's house party. The parties have been negotiating what that document looks like and the Rugby League Players' Association has become involved in the process.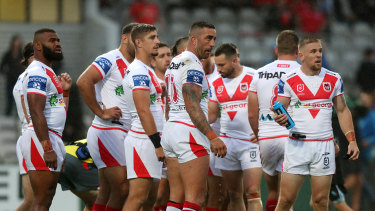 Most Sydneysiders are spending this rainy day indoors as they abide by the current stay-at-home orders.
The Herald's photographers Sam Mooy and Rhett Wyman have photographed what's happening across Sydney for the rest of us playing along at home as NSW records 50 new cases of COVID-19.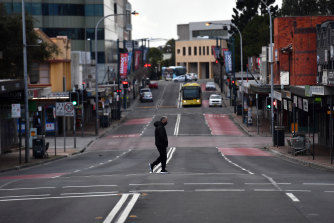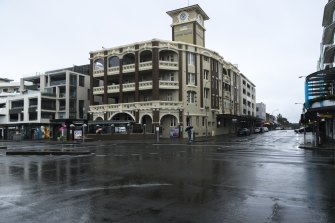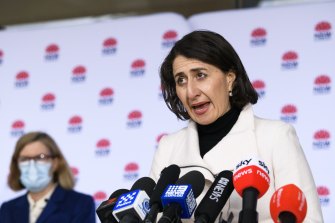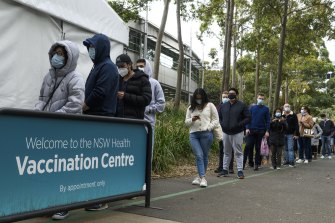 The Broadway shopping centre, in the inner-Sydney suburb of Ultimo, has posted a community update indicating a confirmed case of COVID-19 visited the centre on Thursday, July 8 from approximately 12pm to 2pm.
During this time, the COVID-positive individual visited:
Kmart
JB-Hi Fi
Coles
ALDI
Harvey Norman
Liquorland
The centre said it was advised by NSW Health that anyone who attended any part of the shopping centre during this period should monitor for symptoms. If symptoms occur, get tested immediately and self-isolate until you receive a negative result.
Fairfield City Mayor Frank Carbone has written to the federal and state governments, offering to host a mass vaccination hub at Fairfield Showground.
"Given the Prime Minister's recent announcement about fast-tracking the Pfizer vaccine roll-out, I wanted to ensure that residents in South West Sydney, including Fairfield, have easy access to additional vaccination hubs," Cr Carbone said.
He said Fairfield Showground would be a good location for a pop-up Pfizer vaccination hub because it's in the heart of Fairfield and has the required amenities, as well as being large enough.
Fairfield is one of three local government areas Premier Gladys Berejiklian has asked to vigilantly abide by the current public health orders in light of the Bondi cluster spreading to the south-west.
At present, the showground is being used as a drive-through testing clinic.
"The Fairfield Showground is accessible to those wanting a vaccination. This would bring testing and vaccination to the one easily accessible location," Cr Carbone said.
South Australia has recorded two new cases of COVID-19 today, bringing the total number of active cases in the state to 19, 13 of which have been acquired overseas.
Today's cases, a woman in her 20s and a baby girl, were infected overseas and have been in a medi-hotel since their arrival.
A man in his 20s and another in his 60s with the virus are being treated by Royal Adelaide Hospital. They are both in a stable condition.
In the past 24 hours, the state recorded 5803 coronavirus tests.
We have more detail about the 167 infringement notices issued in NSW over the past 24 hours. Sixty-seven were issued in the south-west of Sydney, where there is a heightened police presence at the moment.
"Overwhelmingly, the response by police, when I speak to them, is that the vast majority of people in south-west Sydney are being compliant, that they are staying at home when they're out, they are wearing a mask," NSW Police Deputy Commissioner Gary Worboys said.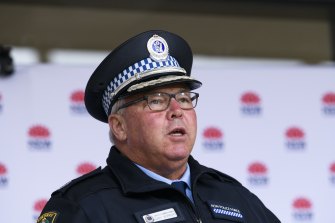 Seventy-six of the infringements were $200 fines given to individuals for failing to wear a mask.
Police attended a home on Arthur Street, Randwick about 1.26pm yesterday, after being alerted to a potential gathering.
Upon arrival, police spoke with two men outside the Randwick property. One claimed to be delivering a package but did not have one on his person.
Eight men aged between 31 and 50 were gathering at the premises. One was found hiding behind a shower curtain in the bathroom.
While three of the men were residents, the other five resided in Sydney's south west. All eight were issued with $1000 infringement notices.
Last night, six guests at a hotel on Kent Street in Sydney's CBD were fined for breaching the current public health order.
One 26-year-old woman present at the hotel was wanted on an outstanding warrant and was charged to appear in court today.
"This type of behaviour is nothing short of disrespectful – we've already seen how easily the virus spread following the unlawful party at Waterloo," Deputy Commissioner Worboys said.
At 9.40pm last night, police were told of a house party on Norberta Avenue, The Entrance.
On arrival, they found six people aged between 17 and 22 celebrating an 18th birthday party. All but one attendee, who was under 18, received a $1000 penalty infringement notice.