Perth's freeway could potentially flood on Monday morning as a second cold front rolls over the city just days after buildings were damaged and streets inundated in a brief but intense downpour.
The Department of Fire and Emergency has advised commuters to avoid driving to work if possible and to pull on the side of the road and turn the hazard lights on if the storm reduces visibility.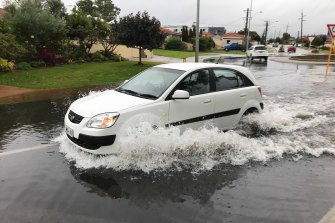 "If it's avoidable to drive, that's what we'd recommend. If you do have to drive please drive to the conditions, drive slowly and put your lights on," Duty Assistant Commissioner Danny Mosconi said.
"Monday morning's is a significant event."
The front is predicted to come through in the early hours of Monday morning and it could impact coastal communities from Exmouth to Augusta.
Mr Mosconi said residents should prepare over the weekend by cleaning debris around the house, tying down loose items, cleaning the gutters to prevent flooding, moving outdoor furniture into shelters, and turning trampolines upside down.
People whose homes are at risk of flooding should sandbag their properties to prevent damage.
"The message is: we want the community to prepare for the event coming through on Monday morning," Mr Mosconi said.
Communities in the front's path, particularly in the metropolitan area, could experience significant flooding due to the ground and drainage system already being saturated in the aftermath of Friday's storm.