But even with the loss of Koschitzke, there were never any questions about the capacity of the St Kilda forward line.
The back line, though, was different matter. The queries were answered not so much by the use of the undersized Brett Voss and the unlikely Brendon Goddard as the Saints' key defensive options, as by the sheer dominance of the St Kilda midfield.
So clinically – and, occasionally, stunningly – did Luke Ball, Lenny Hayes and Robert Harvey rule the centre of the ground that frostbite and boredom (neither of whom play for Brisbane) promptly became the greatest threats to the St Kilda back line.
The effect was to allow nominal defenders such as Raphael Clarke and Aussie Jones to become lethal weapons of attack.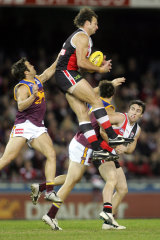 If Jones was reliably potent running hard and kicking long into the forward 50 metres, Clarke was equally dangerous in his deployment of leg speed, vision and deft touches.
The silky 19-year-old was one of a band of players on the fringe of selection who last night put forward impressive bids for involvement in an AFL finals series.
James Gwilt, brought in as a replacement at the fall of Gehrig, did nothing wrong and, by dint of tidy hands and powerful left boot, did plenty right.
Likewise Aaron Fiora and James Gram did their hopes no harm with composed work on the half-back flanks. Nonetheless, it was Milne's night. That was confirmed when the goalsneak lined up for his 11th and the Saints fans broke into a wild chant of "Milney, Milney, Milney".
In the first half, Milne was like a lone seagull outside a fish and chip shop, swooping on and devouring the deluge of crumbs that fell his way.
This was a textbook lesson in the unforgiving discipline that is small-forward play.
Milne possesses all the prerequisites of these footballing thieves-in-night, not the least being a blinding cheek. At his best, what Milne carries most among his lock-picks and glass-cutters is an untrainable ability to read the fall of the ball.
He combined with his blinding acceleration and goal sense to kick two in the first term, four in the second, two in the third and, as the midfield went searching for him, three in the last quarter. They ranged from outrageous snaps and outrageous set shots from the boundary line. Stunning.
For his part, Riewoldt left few doubts about his valour but Saints fans might have questioned his discretion when he flew high across a pack and came down hard on his troubled shoulder. It was early in the third quarter and St Kilda led by 68 points. When he left the field, the Saints announced their approval.
Loading
Among all of this, late in the match Michael Voss kicked out on the full under no pressure at all.
And so the future went past the past.
DETAILS
ST KILDA
5.4 14.8 20.16 28.18 (186)
BRISBANE LIONS
2.2 5.3 6.5 7.5 (47)
GOALS – St Kilda: Milne 11, Riewoldt 6, Dal Santo 3, Hamill 2, Ball 2, Harvey 2, Peckett, Jones.
Brisbane Lions: Bradshaw 2, Drummond 2, Brennan, Corrie, McLaren.
Loading
BEST – St Kilda: Milne, Riewoldt, Ball, Hayes, Harvey, R Clarke.
Brisbane Lions: Drummond, Voss.
INJURIES – St Kilda: Maguire (hip), Gehrig (adductor) replaced in selected side by Ferguson, Gwilt. Goddard (calf), Montagna (corked thigh). Brisbane Lions: McGrath (thumb), Notting (hamstring).
UMPIRES: Davis, James, McLaren.
CROWD: 46,105 at Telstra Dome.