Their relationships are recognised by the Department of Home Affairs as being legitimate, but they cannot be reunited because their subclass of visa is not included among spousal exemptions to Australia's strict travel ban. As they are not yet married, nor have spent a year living together, they are not considered "immediate family".
Perth emergency doctor Andrew Lowe's fiancee, Richa, is an Indian citizen and French teacher. They met through interaction in the group Rotaract and he proposed to her in February 2019. Richa was granted her prospective spouse visa in May this year after a 22-month wait.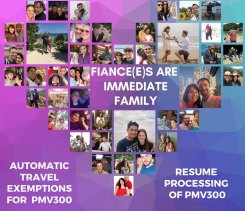 They had planned to marry here and then celebrate with a second, larger ceremony in India, but have had to postpone three times because even though "we are a flight away from being married" Richa's visa type means she cannot come to Australia.
Dr Lowe said the enforced separation is cruel and taking a serious toll. He said that he is so fed up with the lack of certainty that he will take six months off work and leave the country to join her when travel to and from India is allowed. It would jeopardise their financial security, he said, but would be worth it emotionally.
"My partner is getting really distressed about being separated from me for so long, it is really tough to be away from each other. For us, it's more important to be together than it is to have financial security," Dr Lowe said.
"The Australian government is letting in thousands of people a day, so 600 people… is pretty negligible. For such a small group of people you're creating such a large amount of sorrow and despair."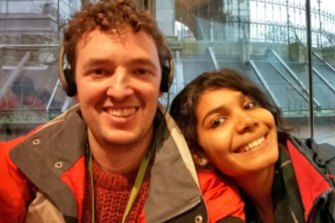 Melbourne woman Amelia Elliott, who runs the Facebook group Grant Offshore Partner Visas Now, said the government should be more compassionate towards engaged couples stranded apart: "[The] number is small compared to the thousands of international business and investment visa holders, sportspeople, celebrities and more who frequently travel in and out of our borders," she said.
Despite the Senate supporting motion last month by Greens Senator Nick McKim for prospective marriage visa holders to be exempt from the travel ban, and a private members' motion by Labor MP Julian Hill, Ms Elliott said there had been no hope offered to couples.
Loading
Home Affairs Minister Karen Andrews said she understands it is deeply frustrating for many couples to be separated while they wait to get married.
"COVID-19 is a terrible virus that has separated couples, parents, children, friends and colleagues right around the world," Ms Andrews said.
"While it's caused separation, Australia's exemption regime has kept us all safe from widespread COVID transmission. It's ensured we can bring Australians home safely and bring in the critical skills we need to keep our economy moving.
"The international border will reopen at scale as soon as the health advice supports it."
The Morning Edition newsletter is our guide to the day's most important and interesting stories, analysis and insights. Sign up here.