"There was some good forward work, the passing was short and sharp. We just needed that right from the start."
New Netball Australia chief executive Kelly Ryan hopes to have a date for the delayed match between West Coast Fever and the Vixens announced later this week.
NA is still investigating the circumstances behind the Vixens not getting on a plane to Perth last month and Ryan said she wanted the proble completed in a "timely fashion".
Meanwhile, if Collingwood defender Geva Mentor has learned one thing in two decades of elite netball, it's that nothing stands still.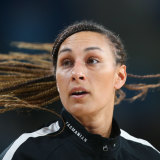 Teams change, sports change and athletes have to change with them, and this is where Mentor has been a rock for her sides as an athletic defender and leader from her early years in England to an illustrious career in Australia with Adelaide Thunderbirds, Melbourne Vixens, Sunshine Coast Lightning and Collingwood Magpies.
The 36-year-old brings up her 200th game when the Magpies play GWS Giants at John Cain Arena on Sunday.
"The most important thing that I've learned is you're not set in stone – I think as an athlete you've always got to be evolving, always changing and adapting," Mentor said this week.
"Whether it's setting up a starter club with the Lightning and having success there and then coming to a club like Collingwood where it's a new netball program and we are looking at building culture and success as well.
"You've got to stay true to yourself, you've got to make sure that you believe in who you are and then you can voice your opinion and for me it's all about inspiring and empowering, not just those around me, but those I can touch off further afield."
Mentor isn't planning on stopping anytime soon despite the Magpies having an inconsistent season in 2021.
"Touch wood, the body doesn't feel too bad," she said.
"The back is playing up a little bit but I think that's just tall-people problems, so once I get a good pre-season under my belt again I'll be good.
"I'm really looking forward to having a solid couple of years here with Collingwood and then building towards Commonwealth Games next year and World Cup, the year after, with England netball."
Collingwood play GWS Giants at John Cain Arena on Sunday at 3pm.