Richmond are moving away from the Magpies after one quarter at the MCG.
The Magpies are fighting hard but the Tigers have been too good when in the forward line with Tom Lynch kicking two goals for the quarter.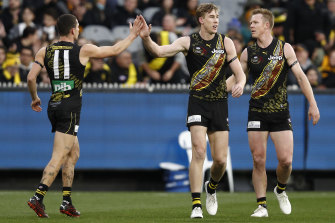 Sydney is in front at half-time over the premiership fancy Western Bulldogs after a torrid first half at Marvel Stadium.
Swans first-year forward Joel Amartey kicked an audacious soccer goal with 20 seconds left in the half to push the lead back to 11 points after his side had held grimly to a five-point edge for the last 10 minutes of the quarter.
The Bulldogs are winning lots of footy but not doing nearly enough with it, nor are they slowing the Swans when they make their moves forward with Jordan Dawson kicking three goals for the half.
Huge second half for the Bulldogs to come as the Swans have had their number so far.
Anthony Scott has been a regular performer for the Bulldogs this season and he has stood up again to come up with a free kick and convert it into a goal.
This second term has been fiercely fought so this goal has been long-awaited.
Swans lead 39-34 with six mins left in Q2.
No late changes for either side. The medical subs are Jack Ross (Tigers) and Trey Ruscoe (Magpies).
Will Hayward and Jordan Dawson have made it four-straight goals for the Swans who are out to a 17-point lead.
Dawson has kicked his third goal and continues to find room to roam, his latest goal was on the run after he drifted into the open side of the ground and then kicked truly.
The Bulldogs have to lift here and they have with Caleb Daniel roving the ball off a marking attempt from Jamarra Ugle-Hagan to kick a close-range goal.
Swans lead 38-27 with 12 mins left in Q2.
The Bulldogs were sharp early but the Swans made the most of their chances late to take a slim lead into quarter-time.
This game has pulsated from end to end and scoring chances are head-earned by Jordan Dawson has kicked two goals for the Swans who are causing trouble for the Bulldogs when they can get the ball into their forward 50m.
Jordan Dawson has kicked two vital goals for the Swans and it has lifted his side into the lead with less than a minute left in the first quarter.
Dawson's latest goal was from a set shot from in front. He looks a dangerous target for the Swans.
Swans lead 25-20 with a minute left in Q1.
Ed Richards has given the Bulldogs a boost with a timely goal from open play.
Richards didn't have much time to get his kick away but he faced the goals and sent it with the ball sailing through the middle.
Dogs lead 19-13 with seven mins left in Q1.
James Bell (Swans) and Mitch Wallis (Dogs) have traded goals in a very entertaining start at Marvel Stadium this afternoon.
Both sides are looking to shift the ball from end to end and the tackle pressure has been high as well.
Swans lead 13-12 with 10 mins left in Q1.