"We've had injuries but the guys have come back. It's been challenging.
"We're all about the journey at our footy club. We've had an incredible journey over the last four or five years, but we're still looking forward to the journey we've got ahead of us."
Hardwick said injuries explained part of his team's decline, but not all of the story.
"That's part of it, we'd still like to be playing a little bit better," he said.
Fringe big man Mabior Chol played out Sunday's game with a rolled ankle.
Cotchin, 31, finished with just 13 disposals against the Pies with Hardwick acknowledging that the modern game was presenting the Tigers skipper with challenges.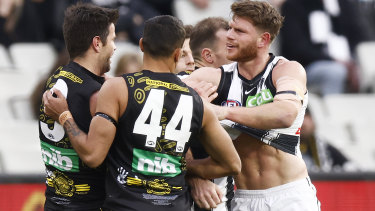 "I'd love to manage him, to be honest," he said.
"He's a battering ram. He's played like that for 15 years at the highest level. The game has changed, there's no doubt about that. It is more uncontested marks, we're seeing a lot of it at the moment.
"There's not a lot of stoppage, contest-type things that are his strengths.
Loading
"We sort of have spoken about moving into a different position, but we need him to play midfield at the moment."
But Hardwick said Cotchin's ability to guide youngsters like Thomson Dow and Riley Collier-Dawkins was invaluable.
"People look at the stats sheet, but what Trent brings you can't measure."
Interim Pies coach Robert Harvey said he was glad his players had been rewarded for their effort.
"[I'm] pretty happy – it's a good result," Harvey said.
"They work so hard. To finish how they did, for the boys to get over the top was a really good effort."
Young tall Will Kelly (quad) was substituted from the game and is likely to miss some weeks.
Keep up to date with the best AFL coverage in the country. Sign up for the Real Footy newsletter.