In the past two days, the clinic has recorded 101 cases. On Saturday, about 1100 cars came though, with almost one in 20 people testing positive, Mr Granger said.
"Someone at the site at any one time statistically has COVID," he said.
By 3pm on Monday, up to 3000 swabs had been taken. But the turnout is exactly what health authorities have been crying out for.
"It's no more serious than it was before … it's impossible to escape," Mr Granger said.
The enthusiasm of Mr Granger's staff keeps him going. Team leader Aaron Henderson-Smith, known as 'Disco', pumps disco music from his phone to keep himself and those awaiting tests entertained.
"We each have our own way of pulling each other in and remaining enthusiastic: this is such a big deal, we get to play a first-hand role [in the pandemic], it really is an honour for them," Mr Granger said.
Kanha Seng and her three children arrived from Cambodia 14 days ago and have spent the last two weeks in quarantine. Family friend Dara Sok used a friend's mini-van to take the family to the clinic on Monday to get their final COVID-19 test.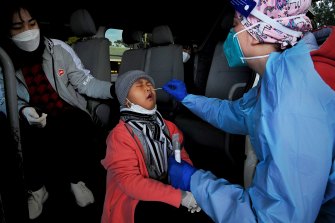 Each of the children closes their eyes as the swab went up their nose. Around them, the SydPath staff share a kind word or a joke to lighten the mood.
Within minutes, all four have been swabbed.
Jason Grima and his two children came forward for testing after being notified on Monday morning that they had been at the Fairfield Coles at the same time as a positive case. They will spend the next 14 days in isolation.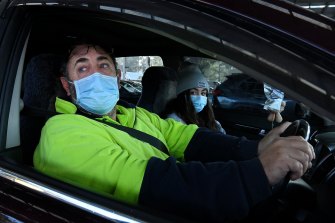 "I got a phone call saying 'go get tested and go straight home'," he said.
On Friday, a new mass vaccination clinic will open at Fairfield Showground but already many people were turning up on Monday asking to be jabbed.
Fairfield mayor Frank Carbone welcomed the hub, but said it was not only essential workers who needed to be jabbed.
"We need one for residents," he said. "You need to put the vaccine hub where it's needed. The virus is spreading in the south-west so this is where the vaccine is most needed."
Daily testing dropped slightly on Sunday after quadrupling in some parts of the Fairfield area over the previous five days. In the Abbotsbury-Bossley Park-Edensor Park statistical area, testing increased from 208 swabs in the 24 hours to 8pm last Tuesday to 832 on Saturday, before dropping to 543 in the 24 hours to 8pm Sunday.
Large increases in testing were also recently seen in the Smithfield-Smithfield West-Wetherill Park area (which recorded 279 tests on Saturday and 260 on Sunday, up from 81 on Tuesday) and the Fairfield-Fairfield East-Fairfield Heights area (415 tests on Saturday and 392 on Sunday, up from 126 on Tuesday).
The number of tests processed in the 24 hours to 8pm on Sunday and Monday is generally lower than the rest of the week as it reflects tests collected on the weekend.
Loading
With many families stuck at home, community groups are grappling with how to keep their members engaged. For the Assyrian Cultural and Social Youth Association, this includes screening documentaries online and using social media chats to host discussions and debates.
The association's executive director Ramsin Edward said many in the community were adhering to the health orders.
"We are determined to get through this," he said. "There will always be lone individuals that breach the stay-at-home orders."
with Mary Ward
The Morning Edition newsletter is our guide to the day's most important and interesting stories, analysis and insights. Sign up here.