"My first reaction was 'f–k'," he said.
Mr Lim is concerned his salon, launched in November last year after Melbourne's lengthy second wave, will struggle to weather another lockdown.
"I was like OK, what are we going to do, another two weeks. It's never-ending man."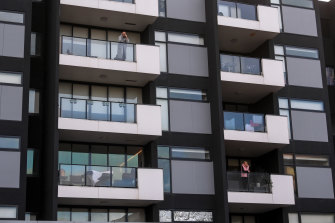 Chandler Baddeley came home from basketball training and saw the letter posted in the elevator on the way up to his apartment.
"I was quite in shock," he said. "I didn't really know what to do.
"What are the chances."
Authorities knocked on his door and said they were sorting out options for residents to obtain food, and that he had to get tested on Tuesday and begin his isolation.
"I'll be bingeing a few [television] shows, I'll tell you that right now, but I don't know where to start," he said.
During a visit to Ariele Apartments on Tuesday, Victoria's COVID-19 commander Jeroen Weimar said public health teams arrived in Maribyrnong late Monday night to start advising residents they had to quarantine for 14 days.
So far, nobody at the complex has tested positive to COVID-19. However, Victorian authorities are adopting a precautionary approach after NSW authorities reported 89 cases of the infectious Delta variant on Tuesday.
"It is very confronting of course to be advised late on a Monday evening that you're now in 14 days of isolation," he said.
Nicola Clement was told of the lockdown in a message from a friend early on Tuesday morning.
"I woke up this morning to a message on Facebook from my good friend who is a reporter saying, 'This looks like your building'," she told The Today Show.
"I haven't had a chance to even talk to anyone else inside the building this morning, but it is a little bit of a wake-up call and just a stark reminder of the world we still live in."
Ms Clement, like Mr Baddeley, was unable to speak to anyone on the COVID-19 hotline on Tuesday morning.
"I have been unable to get through to any of the call hotlines this morning," she said.
"There was nobody outside the door. I thought there might have been somebody there who would offer some information, but there is nothing else."
Stay across the most crucial developments related to the pandemic with the Coronavirus Update. Sign up to receive the weekly newsletter.