The lengthy post, reproduced in court documents, opened by stating that Mr Shanahan was a "failed councillor", who had been overlooked for other jobs in his career due to alcoholism and excessive expenses.
The post also claimed that Mr Shanahan had no interest in or connections to Ireland, attributing a quote to him that "the Irish are not capable of running a club, they just want to get drunk".
"In 2015 he bullied his way into the president's chair using his political connections to threaten and intimidate anybody who got in his way," the post stated, according to court documents.
"Since then anybody who has questioned his decisions has been barred from the club. Sounds like a dictator right? But the Celtic club [sic] is a democratic club, so how has he not been voted out?"
The post claimed that Mr Shanahan had "invited associates" from the Labor Party to join the club and that there were phantom members across the country who always voted for him in elections.
It also stated that he had manipulated a "series of unwitting accountants and treasurers" into selling the Queen Street property, allowing him control the proceeds.
"The current bank balance has gone from $25 million to $17 million. In less than four years," the post stated. "At this rate there will be no club in the very near future."
The post also alleges that Mr Shanahan blocked 200 Irish would-be members from joining the club.
"Every Irish person sees through Brian eventually and washes their hands of him," the post stated.
"Are you willing to ring the Irish ambassador in Canberra and let him know your feelings about Brian?"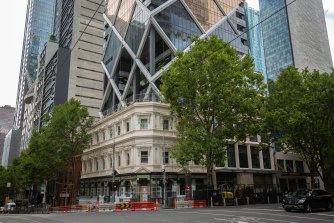 Mr Shanahan claims the post portrayed him as not a fit and proper person to be president of the Celtic Club.
Other defamatory imputations included in the writ are that Mr Shanahan is a failed Australian city councillor, an alcoholic, and unsuited to run the Celtic Club because he lacks connections to Ireland.
Loading
In his writ, Mr Shanahan claims Dr Allen is the "owner and operator" of the Facebook page, as well as the registered holder of the Continuity Celtic Club website.
As part of his bid for aggravated damages, Mr Shanahan claimed that Dr Allen failed to respond to a concerns note sent in April this year.
She also failed to apologise or retract the post, according to the writ.
Patrick McGorry, executive director of youth mental health institute Orygen, replaced Mr Shanahan as president in February this year.
Mr Shanahan and Dr Allen were contacted for comment.
The Morning Edition newsletter is our guide to the day's most important and interesting stories, analysis and insights. Sign up here.