Loading
In Singh's police statement tendered to the court, he claimed Mr Tuteru accompanied him to his car after he confided in his boss.
"Simon told me that sometimes witches leave behind voodoo dolls or hair or something.
"We were looking for something that wasn't mine. While we were doing this Simon talked to me about witches and curses and how they worked.
"After we did the search and didn't find anything he placed his hand on my head and prayed – I don't remember the exact words of the prayer but I do remember at the end of it he said 'In Jesus name I cast the spell out of you'.
"I also remember while we were searching the car he said that he had experiences with witches in Africa and this is where he learnt how witches work. After he prayed on me he then said – OK you are right to go now – I just need you to do the load to Thomastown and then you can come back – see how you are feeling and go home."
Singh says he agreed to drive because he didn't want to be fired.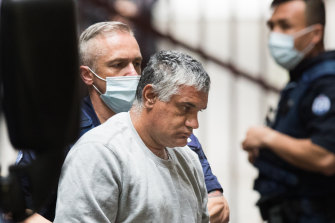 "I then drove my truck towards Thomastown, I felt shit when I was driving – I felt really tired – I felt like sleeping," he said. "The collision then occurred and I don't want to talk about it in detail as it's horrible and I wish it never happened."
After the crash, Singh says he was standing in the freeway emergency lane and called Mr Tuteru and told him he had "killed some police officers".
"He replied something like, 'Don't say nothing to no one'," Singh said. "He didn't ask me anything about the incident, I just remember saying to him that I fell asleep."
The statement also details how on the day of the crash he told his kids he was "seeing stick figures that were coming out of the cracks and walls and attacking me".
Singh told the court he had been seeing ghosts and other supernatural phenomena, including "visions of parallel universes" for many years.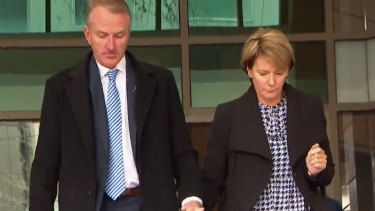 Singh remained subdued while he gave evidence on Wednesday, often responding to questions with: "I can't remember".
He said he had a deteriorating memory problem for several years.
After he finished giving evidence, Mr Hallowes said Singh had been vague and there were inconsistencies between the man's statement and what he said in court. He urged the magistrate to consider his credibility and reliability.
But prosecutor Robyn Harper said Singh had remained adamant on one point.
"There were inconsistencies, that's conceded, but he was adamant that at the car, he told the accused man that he was tired and that he was not fit to drive," she said. "He could not be swayed. There were a number of things he could be swayed on and that wasn't one of them."
The husband of Lynette Taylor, Stuart Schulze, told Nine News after the court hearing: "I had to be satisfied myself that I heard him actually say it, say what he did that day. That's what I wanted to hear."
"We all have a stake in it, we're all here to see it through."
The case continues before magistrate Luisa Bazzani, who will make a decision on Thursday about whether there is enough evidence to commit Mr Tuteru to trial.
With Tammy Mills
The Morning Edition newsletter is our guide to the day's most important and interesting stories, analysis and insights. Sign up here.