Loading
Attendees at the Noosa event, though, said the message from the Queensland Shark Control Program official was clear.
"We sat up at the mention," said Lawrence Chlebeck, a marine campaigner with Humane Society International, who added he later approached the official and her boss. "I congratulated them for their change of terminology."
Dr Pepin-Neff said the shift in wording "has been coming for a while".
"'Shark attack' is a lie", he said, noting that more than a third of encounters left no injury at all. Many others include minor bites from small sharks – such as people stepping on wobbegongs – that would not have been a predatory action on the part of the animal.
Shark experts, though, say the fish can of course be predatory, such as when they breach the surface and snap seals in their jaws. But since their lineage goes back as far as 450 million years, they have little familiarity with much more recently arrived humans.
Loading
"Sharks don't have hands so, if they want to explore something, they mouth it," Nathan Hart, an associate professor at Macquarie University, said. "Very rarely are humans consumed by sharks."
The increasing availability of drone footage regularly shows sharks close to surfers for extended periods of time. On the very rare occasion they bite, the animals are more likely to keep going rather than have another sample of the odd mix of flesh, wetsuit and surfboard.
Professor Hart works with teams in Australia and South Africa to identify why sharks may move on a human, and how that motivation may be discouraged. Results of the research, including the application of lights to the underside of surfboards, will be submitted for publication soon.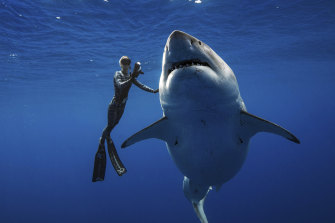 Dr Guida said the public could differentiate between dog bites and dog attacks, and avoiding the term "attacks" in reporting shark encounters "helps improve the public's understanding of sharks and how they behave".
The terminology can also be important especially if words such as "attacks" prompt people to demand culls of what are already often protected animals. Shark numbers are globally in decline because of over-fishing, pollution and the increasing impacts of climate change, including around Australia.
"The worst thing we want is people killing a lot of sharks," Professor Hart said.
When Ballina-based surfer Cooper Allen recounts his encounter with a great white shark five years ago, he prefers to take what he calls a low-key approach rather than dwell on "dark things".
"I tell people, 'I had a bit of run-in with a man in a grey suit,' " said Mr Allen, who, as a 17-year-old, suffered deep wounds to a leg after a shark bite.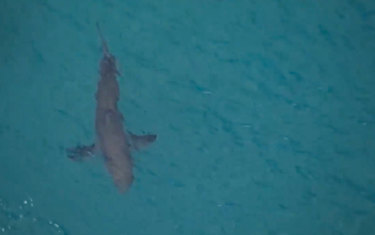 "I prefer it to be bit light-hearted … I don't want to make other people uncomfortable."
The Morning Edition newsletter is our guide to the day's most important and interesting stories, analysis and insights. Sign up here.