Tabcorp also said there was no evidence of customer data loss and steps have been taken at the data centre to address the incident including upgrades to hardware. Further steps are under way to uplift disaster recovery capability.
Racing Victoria said it was continuing to engage with Tabcorp on the incident and was reserving the right to seek compensation. The wipeout contributed to a 23 per cent year-on-year decline in turnover on the Flemington meeting.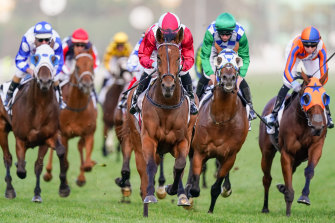 In a report by The Age just weeks after the outage, Tabcorp categorically denied an assertion from a source inside the betting agency who suggested a company reorganisation on the eve of the carnival impacted the company's ability to get the system back up and running.
On the Monday before Derby day, Tabcorp's senior managers and heads of IT and technology departments were issued impact letters giving them until 5pm on Stakes day to reapply for their jobs as part of a cost-saving operation led by Tabcorp's new chief information officer Francoise Russo.
Loading
In a twist, the company's corporate applications were affected by the same outage that left punters reeling on Stakes day, meaning those staff had to reapply for their jobs on the following Monday.
"We categorically refute any suggestion that the technology restructure in any way compromised our spring racing carnival operations," Tabcorp spokesperson Nick Tzaferis said at the time.
"We also entirely refute any suggestion that team disengagement impacted the recovery effort. Our teams worked 24/7 with full focus to restore service levels as soon as possible."
Tabcorp's review into the outage found it simply occurred at an unlucky moment, that being the morning the final day of the Melbourne Cup Carnival. Race meetings around the country were delayed due to the outage, while the Morphettville meeting was called off after two races and postponed to the following Monday.
Following the outage, Tabcorp provided customers with a number of generosities to make up for the outage, including free bets and exclusive offers.
Sports news, results and expert commentary. Sign up for our Sport newsletter.