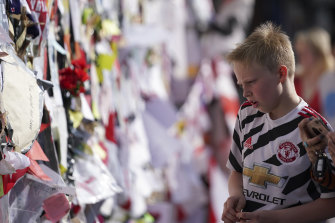 Nine-year-old James Bryce asked: "Why did they have to do it? Marcus is our hero. I don't think he deserved this."
Rashford's star has been on the rise for years but he exploded to national prominence last year when he forced Prime Minister Boris Johnson to cough up more funding for 1.3 million malnourished children hit hard by the pandemic.
One message posted on the mural on Tuesday simply read: "Thank you for all our dinners. Reggie. 6."
Rashford, who experienced childhood hunger himself, was made a Member of the Order of the British Empire in October for his efforts. His mother, Mel Maynard, provided the quote for the Manchester mural, which reads: "Take pride in knowing that your struggle will play the biggest role in your purpose."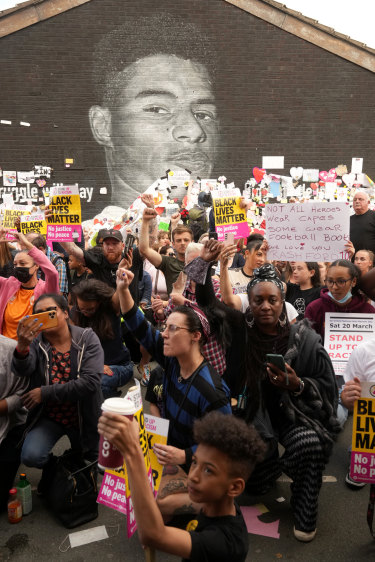 Several hundred people who gathered in front of the Copson Street artwork on Tuesday evening took the knee in solidarity with Rashford, Sancho and Saka, and blamed Britain's political leaders for failing to address underlying racism in society.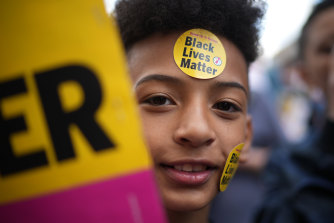 "We will not be silenced. We will not be pushed off the streets. We will never apologise for being black and proud," one protester said.
Johnson met social media companies at Downing Street on Tuesday and demanded more action in stamping out online abuse. Asked if social media companies should hand over private details of perpetrators, a government spokesperson said: "Yes, we expect the social media companies to do everything they can to identify these people."
Loading
A change.org petition demanding racists be banned from football matches for life is close to securing 1 million signatures – one of the highest ever results.
A parish councillor from Shropshire, west of Birmingham, resigned on Tuesday after several posts appeared on his Facebook page following England's loss, including one which read: "Black lives f— up England again." Police arrested Paul Bradbury, who claims his account was hacked, but released him pending further investigation.
Ed Wellard, who commissioned the Rashford artwork in 2019 as part of the Withington Walls project, said the treatment of the three players after Sunday's final had "hit hard".
"There are lots of things going on behind the response we have seen," he said.
"There is a warmth and empathy to that England team – they are a lovely set of lads and very likeable and accessible, for a change. And against some criticism stood up for themselves and campaigned for equality, diversity and inclusion.
"You also cannot underestimate how much people love Marcus Rashford. He's like a living saint, really, especially in Manchester. And Manchester is a very diverse place.