Tasmania has banned anyone who has been in Victoria on or since July 8 from travelling to the state.
Quarantine and other requirements will be in place for those granted exemptions as essential travellers including Tasmanian residents.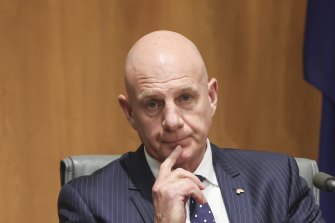 Anyone who arrives before the declaration takes effect at 12.01am on Friday will be allowed to enter Tasmania unless they have spent time in identified high-risk premises.
Earlier today, South Australia tightened its travel restrictions amid Victoria's growing COVID-19 outbreak.
From midnight, essential travellers and South Australian residents entering the state from Greater Melbourne, Geelong or Bacchus Marsh will be required to quarantine for 14 days.
Travellers from other parts of Victoria must be tested for coronavirus on days one, five and 13, but do not have to isolate if their first test result is negative. SA's 70km bubble for border communities remains in place.
A cleaner at a western Sydney aged care home has tested positive to COVID-19, resulting in the facility being locked down until further notice.
Minchinbury Manor at Rooty Hill said in a statement they were informed by NSW Health that a contract cleaner who had worked at the facility had tested positive.
Management said specialist NSW Health teams were working with staff, with daily testing of staff and residents to occur. Five close contacts of the cleaner have been identified and isolated.
About 90 per cent of the facility's 134 residents have received both shots of their Pfizer vaccine and some other residents who recently arrived at the facility had received the AstraZeneca vaccine, management said.
"We anticipate the remaining few residents and staff, who are not vaccinated, will be offered the vaccine again in the facility following the positive case," management said.
NSW Health has just released a long list of new alerts for venues visited by known cases of COVID-19.Anyone who attended the following locations at the times listed is a close contact and must immediately get tested and isolate for 14 days:
Fairfield, Star Sweet Patisserie on July 11 between 4.20pm and 4.30pm
Punchbowl, Chemist Warehouse on July 8 between 2.30pm and 3pm
Liverpool, Service NSW on July 12 between 10.10am and 10.25am
Punchbowl, McDonalds (drive through only), Canterbury Road on July 8 between 6am – 4pm
Health authorities have upgraded their advice for a previously announced venue. Anyone who attended Shell, in Hay, on the Sturt Highway on July 10 between 7.30am and 8am is now a close contact and must immediately get tested and isolate for 14 days.
Meanwhile, anyone who attended the following venues is a casual contact who must immediately get tested and isolate until a negative result is received:
Alexandria, Bunnings on July 8 between 12.25pm and 12.40pm
Punchbowl, McDonalds (not drive through) Canterbury Road on July 8 between 6am and 4pm
Edensor Park, Coles Edensor Park on July 4 between 10.10am and 10.50am, July 10 between 10.10am and 10.50am
Miller, Blooms the Chemist on July 12 between 12.30pm and 1.30pm
Miller, Aldi on July 12 between midday and 12.30pm
Merrylands, Priceline Pharmacy on July 12 between 1pm and 2pm
Fairfield, Chemist Warehouse on July 5 between midday and 2pm and
Liverpool, Krispy Kreme on July 3 between 1pm and 1.15pm
Auburn, Woolworths, Auburn Central on July 12 between 8.30pm and 9pm
Fairfield Heights, The Boulevarde Pharmacy on July 13 between 10am and 11am
Fairfield, Sushi Hub, Fairfield Neeta City Shopping Centre on July 3 between 2pm and 2.30pm
Jamisontown, Bunnings on July 10 between 9am and 10am
Hurstville, Coles, Hurstville Westfield on July 7 between 5am and 10am, July 9 between 10.30 and 3pm, July 10 between midday and 5pm and July 11 between midday and 5pm.
Vineyard, United Petrol on July 11 between 12.10pm and 12.30pm
Merrylands, Mansours BBQ on July 7 between 7pm and 8pm
Merrylands, Red Lea, Stockland Merrylands on July 10 between 2pm and 2.30pm
Auburn, Woolworths, Auburn Central on July 12 between 8.30pm and 9pm
Revesby, TerryWhite Chemist on July 14 between 10.05am and 10.10am
Fairfield Heights, Fairfield Heights Pharmacy on July 12 between 5.30pm and 6pm
Smithfield, Speedway Petrol Station on July 13 between 11.45am and 12pm
A number of new train routes have been added to the casual contact list. Anyone who travelled on the following services must immediately get tested and self-isolate until a negative result is received:
T2 Line from Westmead Station to Auburn Station on July 10 departing 8.01am and arriving 8.13am
T2 Line from Auburn Station to Westmead Station on July 10 departing 8.51pm and arriving 9.03pm
T2 Line from Westmead Station to Auburn Station on July 11 departing 8.02am and arriving 8.13am
T2 Line from Auburn Station too Westmead Station on July 10 departing 8.40pm and arriving 8.53pm
T5 Line from Westmead Station to Auburn Station via Parramatta Station on July 12 departing 7.45am and arriving 8.05am
The full list of exposure sites can be found here.
Three paramedics connected to Liverpool ambulance station in the COVID-19 hotspot of Sydney's south-west have tested positive to the virus.
An email sent to ambulance workers in Sydney's south west confirmed "two more ambulance workers tested positive today."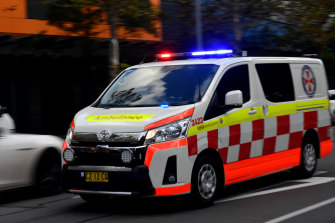 One was already isolating following a patient exposure and another had contact with the Employee Connect and the Ambulance Public Health Unit (APHU), the email said. It is understood one worker tested positive yesterday.
Contact tracing is under way to determine who needs to isolate and be tested.
"At this stage the only station impacted is Liverpool and it is currently closed for a deep clean. It will be fully operational for night shift tonight," the email said.
Ambulance NSW has been contacted for comment.
Melbourne's lord mayor Sally Capp said the five-day Victoria-wide lockdown, which starts at 11.59pm, was understandable but would hurt the city.
"Every Melburnian should listen to the health experts and follow the rules for this reported snap lockdown," Cr Capp said.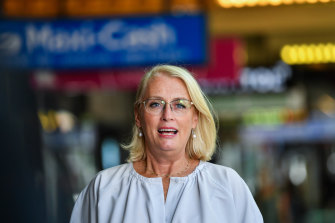 "However, we need to acknowledge that lockdowns have a devastating impact on city businesses and hurt confidence.
"Let's do whatever we can to support local businesses get through this lockdown. Mask up Melbourne, keep washing your hands, remain physically distant where you can and let's keep this lockdown to the minimum."
Three workers on a major infrastructure project in Sydney's inner west, the Westconnex Rozelle interchange site, have tested positive to COVID-19.
The cases were revealed late on Thursday, and follows four cases associated with another worksite at Greenacre, in western Sydney.
A statement from Transport for NSW said: "Three delivery drivers supplying materials to the WestConnex M4-M5 Link Tunnels and Rozelle Interchange projects have tested positive to COVID-19.
"The drivers, and all workers on these sites, wear personal protective equipment including a mask, eye protection and gloves, in line with strict health and safety requirements.
"Delivery drivers they had minimal contact with other workers and showed no symptoms while on site, however as a precaution a small number of people working near where the deliveries took place have been tested."
Victorian Premier Daniel Andrews has insisted he won't be drawn into "sneering" commentary about other states, but he just took what sounded like a swipe at the NSW approach to lockdown by declaring retail is closed and there will be no "browsing".
In NSW Premier Gladys Berejiklian has faced repeated questioning about many retail outlets remaining open during Greater Sydney's extended lockdown and has pleaded with Sydneysiders not to "browse" for non-essential items.
Asked if he was having a dig at NSW, he said: "I'm not interested in words other use, I'm telling you how it is.
"That's by the rules we put on. We will not wait around and if this offends the sensibilities of anyone else in any part of the country, I really don't care."
What does that mean for shopping?
"Retail is shut, closed, click and collect, contactless. If you're on the list, go to work, if not, you can't. We are going to can everything we can to try to extinguish this thing, to put it out in five days," he said.
NSW health authorities have also urged residents of Greater Sydney not to browse for items while shopping for essentials.
Victorian Premier Daniel Andrews has taken aim at the lack of co-operation from the removalists from NSW who travelled to Victoria while infectious and sparked the outbreak at the Ariele apartments in Maribyrnong.
The outbreak linked to the apartments accounts for 13 of the 18 COVID-19 cases in Victoria, with the remaining cases linked to a family from the City of Hume who returned recently from NSW.
"It would be my expectation that the law enforcement in now three states [Victoria, South Australia and NSW] will look very closely at what these two people have done or not done. And as soon as we've got anything to update not just you but the entire Victorian community with, we absolutely will.
"It is not the first time we've seen someone do the wrong thing and the consequences of that, and Victorians know that and have lived it more than anybody else in our country, but I tell you what, someone coming forward and telling the truth is the most valuable thing.
"That's precious. So the frustration in many respects is not that they perhaps didn't wear their mask when they were unloading the truck, it's that for quite a while they were very difficult and weren't being necessarily forthcoming.
"Now, whether that's an offence is another matter. But look, I can't change what they did and didn't do.
If they're found to have done the wrong thing, that is a matter for a burden of proof and all those judgements are made by police in three states now. I'm confident that those judgements will be made fairly and properly."
The latest infection from the Melbourne Cricket Ground, one of the city's major COVID-19 exposure sites, is a man in his 20s who was seated in the Members' Reserve area.
There are now three cases linked to the Geelong v Carlton game on Saturday, July 10, which was attended by a positive case from the Ariele apartment complex in Maribyrnong which is now in lockdown.
That positive case, a man in his 60s, also transmitted the virus to his parents and to his friend, a school teacher from Bacchus Marsh who attended the game with him, who in turn passed it on to two members of his family.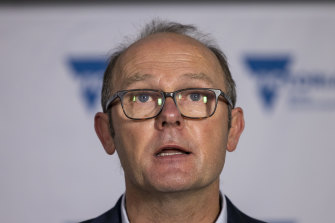 Victoria's Deputy Chief Health Officer Daniel O'Brien has highlighted the excitement of football fans as a particular dynamic of concern at sports venues and authorities were examining CCTV footage to figure out where the people crossed paths.
"I think we know that you can aerosolise the virus when you're cheering. I'm not sure which team they barracked for but maybe the winning team.
"But anyway, the likelihood is that probably through aerosolisation other people in the region have become infected and it's also possible that facilities within the place touch as food and beverage outlets, toilets and bars, people could have had fleeting transmission that may have passed on the virus," he said.
"We are looking very closely at the CCTV footage to see if we can actually find out exactly where the people came into contact but it's possible it is just being in the same environment."
The press conference has turned to the controversial issue of support for workers and businesses affected by the five-day lockdown in Victoria and Premier Daniel Andrews has flagged he'll be making the case for Commonwealth assistance.
He said he had exchanged text messages with Prime Minister Scott Morrison, who announced a revamped support scheme earlier on Thursday, throughout the day. He expected to speak to him tonight.
"All week, there has been a bit of banter and back and forth between our government and the Commonwealth. All we've sought to do and what I think we have done is remind the Commonwealth government that at every point, they have said that packages of support and measures and policies and plans are based on need.
"Well, there is need in Victoria from 11:59pm tonight. And we expect the Commonwealth government will step up and help those people who need the help."
Mr Andrews suggested there might need to be a pro-rata approach given the federal support contemplates a seven-day lockdown threshold.
"He's on seven days and because of health advice we've decided to go with five days. For the sake of a couple of days I really don't think that we can have people going without the payments that they're entitled to," he said.
"I would have thought five-sevenths of that weekly payment would be a pretty good place to settle."
Mr Andrews said he would be "staggered if the Prime Minister and the federal Treasurer want to look Victorians in the eye and say, 'You were looked down for five days, you weren't locked down for seven and therefore you are not getting anything.'
"I really don't think they would want to get into that sort of argument. I certainly wouldn't want to and I'm confident that we can have a mature discussion."
Mr Andrews said the state would pick up the tab for support in areas not declared as federal hotspots and would split payments if the lockdown stretched beyond two weeks as had happened in NSW.