Dr Canadell said while it is too early to tell whether so-called tipping points have been reached, the process of clearing rainforest for crops or cattle grazing, the resulting loss of local rainfall and increased chance of forest fires could compound the problem.
"There's a very real possibility that we could be entering self-reinforcing loops that prevent the forest recovering to what it used to be," he said, adding it would "happen in Australia if fire frequency increases".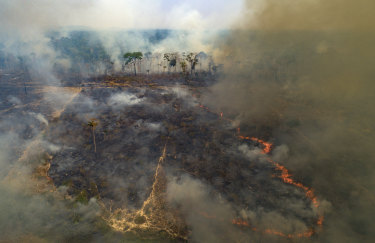 The Nature paper noted that the south-eastern site in the Amazon, home to the largest amount of deforestation among the regions monitored, had already become a net source of carbon emissions.
One change is the climate is drying with the loss of forest cover. The paper noted that 25-35 per cent of total rainfall was locally sourced through evapotranspiration of moisture from plants to the atmosphere. Over the past 40-50 years about 17 per cent of the forests had been cleared, creating what the paper described as a "cascade effect".
"Removal of forests causes an increase in temperature and reduces evapotranspiration, and has been shown to reduce precipitation downwind of deforested areas," the paper said. The dry season, from August to September, had the biggest drop in rainfall.
Loading
Dr Domingues said compared with global trends, the eastern Amazon's region has warmed as much as 0.6 degrees per decade. "This is around three times the rate we are seeing globally and is causing severe changes on the Amazon's seasons," he said.
"Reaching the so-called tipping point or not, what I can affirm is that the Amazon is a vital biome with a crucial role in a global scale and we should start to treat it as it is," Dr Domingues said.
"Studies like this remind us that we need to act, and act fast."
The paper's release comes as international agencies report that last month was the world's fourth or fifth warmest on record. The US National Ocean and Atmospheric Administration, though, noted that land temperatures alone were 1.42 degrees above the 20th century average, making it the hottest June on record, beating the peak set in June 2019.
The Morning Edition newsletter is our guide to the day's most important and interesting stories, analysis and insights. Sign up here.