"We believe that if we get our core nucleus back…you never know."
'It sits awkwardly'
Riewoldt, 32, meanwhile said that the milestone sat somewhat awkwardly with him given he joins club greats Jack Dyer, Kevin Bartlett and Francis Bourke as the only men to have played 300 games with the Tigers.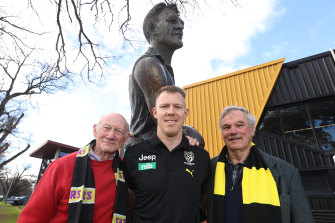 "It's a little bit embarrassing to be honest. It's extremely humbling. They are the greats of not only this football club but of the AFL, so it sits a little bit awkwardly with me at the moment," said the Tasmanian as wife Carly and daughter Poppy watched on at a press conference held in the club's boardroom.
Riewoldt said he was particularly proud of being part of a club that rose from the depths of a rebuild at the turn of the last decade to become a modern power, winning three premierships.
"It's been a hell of a journey for 300 games and I've been blessed to be able to pull on the Richmond jumper 300 times, and every time it's meant the world to me.
"It's very special to me.
"One thing I'm extremely passionate about is being loyal and I'm glad that I've been given that opportunity to show my loyalty to this football club.
Loading
"I think that's probably one of the things I'm really proud about is that I've actually experienced the real lows of AFL football and finishing last and getting early draft picks.
"Warnie sent me a message which was pretty good, I was rapt with that."
He said he had never genuinely considered leaving Richmond.
"Not seriously. Obviously that's the game of AFL football and professional sport is that there will always be other suitors that want your services but as I said, loyalty's been so important to me and so strong to me, I've always relied on that and the support the club has shown me as well."