The Dockers would have pinched it if Matthew Pavlich – quelled by Tom Lonergan – had found the target from long range with two minutes left. He hit the post. Lyon left his post after a chaos ball bounced off the captain's chest.
A fluky wind played a frustrating hand, as did a couple of early decisions that exasperated the Cats as Aaron Sandilands won a perplexing in-the-back free (and missed from 20 metres) and Allen Christensen was the victim of an "advantage" call that was anything but. It did not soothe the locals that their first two goals, to Bartel and Tom Hawkins, both came from free kicks.
As did Steve Johnson's first two possessions, and no prizes for guessing who against. All eyes at the opening were on the Docker in the metaphorical black hat, Ryan Crowley, who duly put paid to the "funny buggers" suspected in Lyon's midweek match-up declaration by doing as his coach predicated and going to Johnson.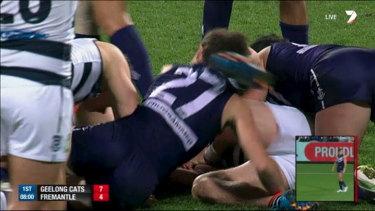 They were scrapping within seconds, and intermittently throughout the night. In the last quarter, Johnson was forced from the field with his jumper shredded.
The Dockers dominated the clearances early with Nat Fyfe making full use of Sandilands' service, racking up four of his team's 11 first-quarter clearances and giving Cam Guthrie plenty to think about. Guthrie had 11 touches himself to half-time, but Fyfe's work was more damaging and more eye-catching, the second of his two first-half goals coming after a huge mark from four-deep in a pack.
This meant that for all of their first-half dominance of everything bar the stoppages, the Cats went into the break less than two goals to the good. As they hit the scoreboard through familiar faces like Bartel, Selwood and Hawkins, their opponent of many parts stayed in touch by finding goals on the break through relatively anonymous types such as Crozier and Cameron Sutcliffe.
It left the visitors threatening to embody what they've been in the season's latter half – a team not exactly setting the world alight, but still finding a way to win.
Bartel's third steadied the ship and Steven Motlop did likewise after Crozier's second.
Geelong built from the back, with Taylor's supreme late-season form continuing, Rivers a worthy foil, and Corey Enright playing like a man who will not only play on next year and join Ian Nankervis and Sam Newman as the only 300-game Cats, but carry on and on and beyond Nankervis' games record of 325.
Loading
Andrew Mackie was everywhere too, surging forward to goal twice from long range.
Even with Mackie lost for half a quarter after a heavy knock, Geelong's defenders had a lot of the ball. By contrast, dour Docker Zac Dawson didn't touch it until 15 minutes into the third quarter.
SCORE SOURCES
GEELONG FREMANTLE
STOPPAGE (4.4) 28 (7.8) 50
BOUNCE (0.1) 1 (3.1) 19
THROW IN (2.1) 13 (1.2) 8
BALL UP (2.2) 14 (3.5) 23
TURNOVERS (7.5) 47 (3.5) 23
Loading
KICK-INS (1.0) 6 (1.0) 6
GEELONG 4.2 7.4 11.6 12.9 (81)
FREMANTLE 1.4 5.5 7.6 11.13 (79)
GOALS
Geelong: Bartel 3, Mackie 2, Duncan 2, Christensen, Caddy, Selwood, Motlop, Hawkins.
Fremantle: Crozier 3, Duffy 2, Fyfe 2, Sutcliffe, Ballantyne, Barlow, Hill.
BEST
Geelong: Taylor, Enright, Duncan, Selwood, Mackie, Rivers, Lonergan.
Fremantle: Fyfe, Barlow, Mundy, Hill, Sutcliffe, Pearce, Crozier.
UMPIRES
Stevic, Pannell, Armstrong.
CROWD
26,855 at Simonds Stadium