Former St Kevin's students were among those named in March by young women as having treated them sexually inappropriately, in a national petition to boost consent education run by law student Chanel Contos.
St Kevin's is one of many boys' schools whose students have faced allegations of disrespect for women and girls.
Some respondents in the new report used words such as "inclusive", "academic" and "supportive" to describe the St Kevin's culture; others called it "toxic", "misogynistic" and "confused".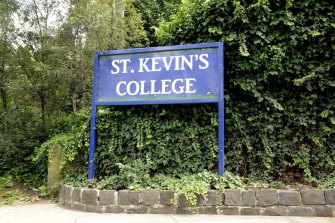 The review found a high level of desire to "prioritise diversity and inclusion", despite the fact only half (53 per cent) of female staff agreed the school values diversity now. A third of students disagreed that the college "effectively supports the fair treatment of students regardless of race and sexuality".
"I think 18 months ago there was great sadness and disappointment with what happened, and I think emotions of anger and certainly a sense of grief have been experienced in our community," said Ms Barker, who joined St Kevin's after leading the girls' school Santa Maria College, Northcote.
"There is an enormous amount of love for the college and there is an optimism from students and from staff that this is a new time. What they're saying to me is everybody wants this to work, to learn from the report … Schools are about learning and this is an opportunity for us to keep learning from what happened."
Ms Barker said the college's captains had been briefed on the report and were fully supporting her push for a "mature dialogue about the challenges".
'I started out feeling proud that my boys went to the school, then horrified and ashamed and now neutral.'

St Kevin's parent in the St Kevin's College Culture Review
Some students felt ashamed to wear the school uniform in public, the report noted. Some respondents also felt ashamed to "acknowledge they attended or worked at the school, or to list the school on a resume".
One parent said: "I have had sons at the school for six years, with another five years to go. I started out feeling proud that my boys went to the school, then horrified and ashamed and now neutral. I have hope that changes introduced recently and going forward will return me to a position of pride."
The review, to which 1000 students, parents, staff and past pupils contributed, found only a third of students felt there were adequate programs to address sexism and inappropriate behaviour towards other genders. "We heard almost universally that more could be done to build a culture where all are respected."
Loading
Several felt disappointed that Edmund Rice Education Australia, which runs the school, had "not taken ownership of their governance issues which have caused so much reputational damage". They requested an apology and a governance plan.
Ms Barker, who started on January 1, said "in many ways [the report] was not surprising because I had been in conversation with many of my female colleagues … [it] is a significant piece to regain trust: there has to be a sense of transparency and openness and a sense of acknowledgment."
Much of the school's senior leadership team had changed since 2019, nearly 50 per cent of staff were female and strong child-safety procedures and respectful relationships education programs had been introduced across the school.
Edmund Rice Education Australia and the college said they welcomed the recommendations of the consultants' report, which includes strategies to "reset, reclaim and reimagine" the 103-year-old school's culture. These include making leadership more responsive and visible, enhancing inclusivity, "driving respect for all", providing staff and students with wellbeing support and improving feedback channels.
Ms Barker said Edmund Rice was "looking for ways to offer that apology [as requested in the report] and that will be done in a way in which the community can be involved."
The survey found the school community felt optimistic and positive about the choice of a female principal, and about the opportunity to fix its cultural issues.
The Morning Edition newsletter is our guide to the day's most important and interesting stories, analysis and insights. Sign up here.