Michaela Whitbourn has signed off for the night after another big day. I'll keep you updated on any new developments.
We have some new tier one exposure sites in Victoria, around Phillip Island and Frankston on the Mornington Peninsula, south of Melbourne.
A confirmed case of COVID-19 watched Black Widow at the Village Cinemas in Frankston between 6pm and 8.30pm on Monday.
A case also visited the Phillip Island Grand Prix Circuit in Ventor on Tuesday between 11.10am and 1.17pm.
Coles in Cowes is also listed as an exposure site between 4.30pm and 5.30pm on Monday on the corner of Church Street and Thompson Ave.
Anyone who visited those sites at the same time must immediately get tested and stay at home for 14 days to quarantine.
There are also new tier two exposure sites, which requires people to get tested and isolate until they receive a negative result:
G'Day Tiger in Cowes is listed as an exposure site between 9.16am and 10.24am on Tuesday.
A person with COVID-19 visited A Maze N Things Theme Park in Cowes on Wednesday between 3.24pm and 4.05pm on Wednesday
And a case went to the Jolly Lolly Trolley in Cowes on Wednesday between 3.24pm and 4.05pm.
There are now 134 exposure sites in Victoria.
These are further to the exposure sites we reported earlier this afternoon:
A case visited San Remo Fishermans Co-op between 6.15pm and 7.21pm on Wednesday.
Phillip Island Ten Pin Bowling and Entertainment in Cowes between 1.15pm and 3.45pm on Wednesday.
Grumpys Crazy Golf in Cowes between 11am and 12.45pm on Wednesday.
Anyone who visited during these times is required to get tested immediately and must stay home for 14 days to quarantine.
NSW health authorities have issued more COVID-19 exposure alerts including for an IKEA store in Sydney's north-west.
Anyone who attended the following locations is a close contact and must get tested and isolate for 14 days.
Emu Plains, Woolworths Lennox Shopping Centre on July 10 between 4pm and 4.45pm
Liverpool, Service NSW on July 12 between July 12 10am and 10.30am
Lakemba, Al Sultan Butchery on July 10 between 9am and 8pm, July 11 between 1.30pm and 8pm
Hurstville, Coles, Westfield Hurstville on July 10 between 11.40am and 12.30pm, July 12 between 9.15am and 6.15pm
Marsden Park, IKEA on July 12 between midday and 7.30pm and on July 13 between midday and 4pm
People who have visited the following locations are casual contacts and must get tested and isolate until a negative result is received:
Fairfield, KFC on June 25 between 3.30pm and 11pm, and on June 26 between 3.30pm and 11pm
Greenacre, Hanson Concrete all day on July 1, 2, 3, 4, 5, 6 and 7
Fairfield, KFC, The Horsley Drive on July 6 between 3pm and 9pm, July 10 between 3.30pm and 11.30pm, July 11 between 9am and 8.30pm
Casula, Costco Wholesale, on July 7 between 12.50pm and 4pm
East Greenacre, Hungry Jack's on July 8 between 7.40pm and 8.10pm
Hurstville, Coles Hurstville on July 8 between 9.15am and 4pm and on July 13 between 10am and 3pm
Canley Heights, Tobacconist and Gifts on July 11 between 9am and 9.15am
Belfield, BP petrol station on July 11 between 12.25pm and 12.45pm
Lakemba, I-Juice Plus on July 11 between 4.25pm and 4.40pm
Fairfield, Coles Fairfield Forum on July 11 between 3.30pm and 3.45pm
Fairfield, Woolworths BWS Fairfield Neeta City on July 11 between 6pm and 6.10pm
Prairiewood, 7-Eleven on July 13 between 7.45am and 7.50am
The full list of exposure sites can be found here.
Martin Pakula, Victoria's Minister for Industry Support and Recovery, says he is confident the state will recover quickly from its latest COVID-19 outbreak.
"We've gone early and I think it's the right decision. We'll get on top of this and we'll get back to where we were before as quickly as we possibly can," he said, speaking on ABC Melbourne Radio on Friday afternoon.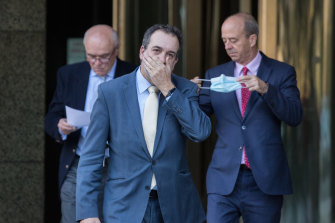 But he said the Delta variant had been infecting people far more quickly than in previous outbreaks: "The hype about Delta is not overstated."
Asked whether he blamed Sydney for the spread of COVID-19 into Victoria, Mr Pakula said he did not.
"I blame the virus. I think we would have all loved Sydney to go a bit harder and a bit quicker, but at the end of the day it's a highly infectious virus," Mr Pakula said.
"They're in a difficult situation, and they're dealing with it in their way."
Mr Pakula said he understood that financial packages for Victorian businesses, which are enduring their fifth lockdown and third this year, did not cover everything but that government support was not an "endless well".
"I understand that it doesn't cover all of the expenses that a restaurant is going to have when they're not able to trade. It's not designed to do that. It's designed to be emergency support.
"The government is not in a position to put back every dollar that a restaurant might have otherwise earned over a five-day period."
A baby born in respiratory distress at a Sydney hospital should have been able to be resuscitated, but he was instead mistakenly given nitrous oxide for more than 50 minutes, leaving an "unsurvivable" level of oxygen in his blood, an inquest has heard.
John Ghanem died within an hour of his birth at Bankstown-Lidcombe Hospital on July 13, 2016.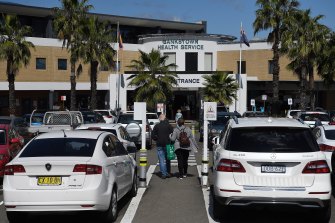 In her opening address on Monday, counsel assisting the coroner Donna Ward said John had given a "weak cry but no sustained respiratory effort" and a doctor had tried to stimulate him by rubbing him with a cloth. She said an infant resuscitator, using room air, did not produce the desired effect.
The Los Angeles Times reports that the University of California will require proof of COVID-19 vaccinations before the start of the next term for all students, faculty and others, becoming the United States' largest public university to mandate the vaccines even though they don't have full federal approval.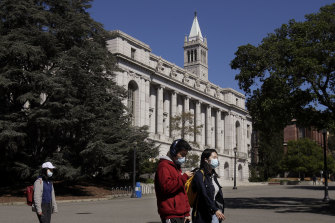 As the highly contagious Delta variant spreads among younger people across the US, unvaccinated students without approved exemptions will be barred from in-person classes, events and campus facilities, including housing — and not all classes will be offered online, according to a University of California memo outlining the mandate. Physical distancing and mask wearing are expected to continue.
A parent of a student at Ballarat Clarendon College has tested positive to COVID-19, forcing the entire school community of almost 2000 students and staff into isolation.
It is the third school west of Melbourne to be linked with the state's current outbreak.
College principal David Shepherd said the school was taking directions from the Department of Health, which had said that all students and staff should isolate themselves at home for all reasons other than to get a COVID test.
Mr Shepherd said the Grampians public health unit led by Professor Rosemary Aldrich had been highly supportive in dealing with the positive case.
"They've been terrific in terms of directing us what to do and we are just following those directions," he said.
"We've just been told that all people that have been on-site in our two campuses in the last few days are just to stop and stay [home] until we have more information."
The department is working to establish the student's close contacts.
Five staff at Bacchus Marsh Grammar have also been infected, as has a student at Barwon Heads Primary School, who is the son of the first teacher at Bacchus Marsh Grammar to test positive.
It has been one month since a COVID-19 infection was reported in a limousine driver from Sydney's eastern suburbs, starting a virus outbreak that has forced Australia's two largest cities to spend this weekend in lockdown as case numbers escalate.
More than 1000 cases have now been recorded across Greater Sydney, as the focus of spread shifted from the east to the south-west.
Twin outbreaks in Victoria, linked to the Sydney outbreak, spurred Victorian Premier Daniel Andrews to announce a snap five-day lockdown across the state last night. The state has recorded 26 cases so far.
Mary Ward and Nigel Gladstone have put together eight graphs that explain Sydney's COVID-19 outbreak.
A fish co-op, ten pin bowling and mini golf centres on Phillip Island, south of Melbourne, have been listed as tier one exposure site after a confirmed COVID-19 case visited on Wednesday.
The case visited San Remo Fishermans Co-op between 6.15pm and 7.21pm, Phillip Island Ten Pin Bowling and Entertainment in Cowes between 1.15pm and 3.45pm, and Grumpys Crazy Golf in Cowes between 11am and 12.45pm on Wednesday.
Anyone who visited during these times is required to get tested immediately and must stay home for 14 days to quarantine.
There are now 128 exposure sites in total, including tiers two and three.
The Australian Olympic Committee has announced that Opals player Liz Cambage has withdrawn from the Australian Olympic team to compete at the Tokyo 2020 Games.
Chef de mission Ian Chesterman says he understands Cambage's decision.
"Liz has made a great contribution to the Australian Olympic team over two Olympic Games campaigns. We respect her decision and wish her the best in returning to full health.
"Our focus now moves to working with the Opals so they can achieve the goals they have set for themselves in Tokyo. We know they are totally committed to achieving success in Tokyo and they will still bring an incredibly strong team to this campaign," Mr Chesterman concluded.
Cambage has wished the team well while she focuses on her health.
"Anyone that knows me knows one of my biggest dreams is winning an Olympic gold medal with the Opals. Every athlete competing in the Olympic Games should be at their mental and physical peak, and at the moment, I'm a long way from where I want and need to be.
"It's no secret that in the past I've struggled with my mental health and recently I've been really worried about heading into a 'bubble' Olympics. No family. No friends. No fans. No support system outside of my team. It's honestly terrifying for me. The past month I have been having panic attacks, not sleeping and not eating.
"Relying on daily medication to control my anxiety is not the place I want to be right now. Especially walking into competition on the world's biggest sporting stage.
"I know myself, and I know I can't be the Liz everyone deserves to see compete for the Opals. Not right now at least. I need to take care of myself mentally and physically.
"It breaks my heart to announce I'm withdrawing from the Olympics, but I think it's best for the Opals and myself. I wish them nothing but the best of luck in Tokyo and I hope they go forth and win a gold medal. Love and light," she sasid.
The Australian Olympic Committee will explore the potential for a late replacement for Cambage in the Opals Team.