Loading
However, the Department of Health is yet to confirm whether either case is new or previously announced.
The latest Bacchus Marsh cases are in addition to Victoria's six new cases of coronavirus that were announced earlier on Friday, the first day of the state's fifth lockdown of the pandemic.
Those earlier cases included two people who picked up the virus at Melbourne's iconic Young & Jackson hotel.
A total of ten new cases were recorded in the 24 hours to midnight (with the two teachers in addition to this) all linked to current outbreaks. Four of the cases in the official tally on Friday were revealed on Thursday.
COVID-19 response commander Jeroen Weimar said one of Friday's fresh cases is a household contact of the COVID-19 positive teacher from Barwon Heads who attended an MCG football match with a resident from the Ariele Apartments who was infected.
All the cases at Bacchus Marsh Grammar are colleagues of the Barwon Heads teacher.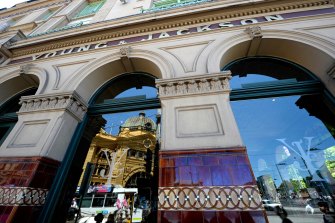 There are now a total of four cases associated with the MCG event, including the latest case in a man in 20s from Point Cook who works at the Sanctuary Lakes Hotel.
The MCG cases reported yesterday included a 10-year-old child and a man in his 30s who is a staff member at Trinity Grammar, Mr Weimar said. That man attended the Wallabies test match at AAMI Park on Tuesday night.
Loading
There were also two fresh cases of men, both in their thirties, associated with the Young & Jackson pub in the CBD. Mr Weimar said one of those lives on a naval base, a member of the HMAS Cerberus on the Mornington Peninsula, south-east of Melbourne.
Both cases were unknown to each other and did not know the index case.
He also said the new cases identified at the MCG "did not know each other, did not sit together, did not know the index case [a man in his 60s from the Ariele apartment complex] or his friend".
"We are back in the world of fleeting transmission occurring," he said.
One case was also recorded in hotel quarantine on Friday.
There were 33,129 COVID-19 test results processed in the 24 hours to midnight on Thursday, and more than 17,188 people received their vaccine doses.
The lockdown was announced late on Thursday and will restrict Victorians to a 5km bubble around their homes.
Victorians now have five reasons to leave home – to get food or essential supplies, for two hours of exercise and for caregiving, authorised work, or to get vaccinated.
Exposure site list swells
A fish co-op in San Remo and two amusement centres on Phillip Island were listed as tier-1 exposure sites on Friday afternoon after a confirmed COVID-19 case visited on Wednesday.
There are now almost 130 exposure sites, 1500 close contacts and 5000 secondary contacts in Victoria.
Victorian Premier Daniel Andrews said "we are all working as hard as we possibly can to make this as short a lockdown as possible, five days".
Health authorities have added exposure sites linked to the Carlton-Geelong AFL game, including the expansion of the tier 1 site across a bigger area of the level two members reserve.
Among the new sites also is AAMI Park (from the Wallabies Test match visit).
Hastings on the Mornington Peninsula has also been added as a tier 2 site with a case visiting the KFC for a short time on Monday night. If you were at the venue from 9pm until 9.15pm health authorities have asked you to isolate until you receive a negative test result.
Chemist Warehouse in Frankston, on Cranbourne Road, was also added to the list as a tier 2 site after a case attended the Karingal shop on Monday. Time periods between 5.40pm – 5.50pm and then later, from 8.30pm to 8.50pm, have been added.
The Salvo store in Bundoora on Plenty Road has been listed as a tier 1 exposure site. If you went to the shop between 11.45am and 1pm on Tuesday test immediately and quarantine for 14 days.
Banyule City Council offices in Greensborough (level 3, 1 Flintoff Street) have also been listed as a tier 1 site.
"An individual who attended our Greensborough office on Monday 12 July 2021 has returned a positive COVID-19 test result," the council's website says.
The Ms Frankie restaurant in Cremorne is also listed as a tier 1 site after a positive case attended on Tuesday night and anyone there between 6pm and 7.45pm has been asked to get tested and quarantine for 14 days.
Other sites in Williamstown, Point Cook, Craigieburn, Oakleigh and Carnegie have also been added the list.
Queensland shuts border to Victoria
Queensland will shut its border to Victoria from Saturday, Premier Annastacia Palaszczuk has announced.
Anyone entering Queensland from Victoria after 1am on Saturday will go into two weeks of hotel quarantine.
Ms Palaszczuk said on Friday morning the situation was moving rapidly, and she wished Victoria the best.
"I just think that the clear message to Queenslanders is definitely do not go to NSW and do not go to Victoria during this period of time," she said.
Other states and territories were quick to shut their borders on Thursday: Tasmania shut its border entirely, while South Australia and the Northern Territory will enforce 14 days of quarantine for all visitors from Greater Melbourne and Geelong.
Lockdown may be lifted earlier in regional Victoria
On Friday, Mr Andrews also raised the prospect that regional Victorians might get an earlier exit from the state's five-day lockdown.
"It may not be possible. If I do not get advised that it is safe then I won't do it," he said.
Business support package announced
A deal was struck on Thursday night between the federal and Victorian governments on financial support for the latest lockdown.
The state government will provide $3000 and $2000 payments to 90,000 businesses who are again being hit by lockdown.
Mr Andrews said the state government would pick up the tab for support in areas outside the federally declared hotspots.
People and businesses in hotspot areas – which includes greater Melbourne, Geelong, and the Surf Coast – will receive assistance from the federal government under the same rules as the NSW scheme announced by the prime minister earlier this week.
The state would also make available a $200 million business support package.
"We're looking to make automatic payments. [If businesses got a] grant last time you'll get a grant this time, and you will receive those monies we will pay them almost certainly before the end of this lockdown certainly early next week," he said.