Essendon are not looking further ahead than Sunday's game against North Melbourne after being thrown into uncertainty when forced to leave Victoria at a moment's notice on Thursday.
The club understands there is a chance they will be on the road for several weeks but remain hopeful they might be able to play upcoming home games against the Giants and Sydney in Melbourne.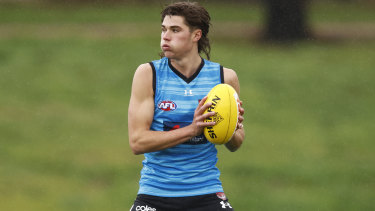 However, coach Ben Rutten says they will just take what comes their way without complaint with their immediate focus on beating North Melbourne at Metricon Stadium to stay in finals contention.
"It's been a bit of a mad dash," Rutten said.
"Our focus is about preparing ourselves as best we can for the game for North on Sunday, then get through to Monday and hopefully we will have some more information then. That's the environment at the moment. I don't think there are answers out there so we will know we will be here on Monday and we have North on Sunday."
Two players – Paddy Ambrose, who is injured and has just had a baby, and Andrew Phillips, whose wife is 38 weeks pregnant – stayed home but the remainder of the squad travelled, indicating the club's preparedness to be on the road for several weeks.
Bombers captain Dyson Heppell will return from hand surgery, while Essendon also named mid-season draft pick Sam Durham, an athletic and versatile wingman, to make his debut.
Essendon were not the only club dealing with uncertainty as St Kilda, Port Adelaide, Melbourne and Hawthorn remained unsure on Friday morning as to what time their games would be played on Saturday.