"You could say the junction between a roof and the sky can be quite severe. We thought that it was important to 'touch the sky lightly'," says McBride, who was also keen to create a 'dialogue' between the original Victorian house and the new wing, skewed to the north and framing an established oak tree.
As with the Victorian terrace, the new music wing is also constructed in bricks, but they are glazed and in subtle shade of pale blue, white and faded turquoise to capture its meeting of the sky.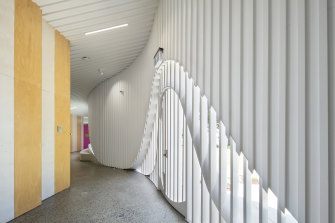 The arrangement of these bricks also loosely references the Victorian brickwork, but in a contemporary manner.
To deflect the afternoon sunlight, as well as create a level of privacy, MCR included curvaceous steel window canopies and timber fretwork, the latter responding to the many Federation homes in the neighbourhood.
In contrast, the rear elevation of the music house, featuring a more severe concrete facade that leads directly into the main recital hall, 'speaks' to the many 1960s school buildings on the Essendon campus.
Loading
As with many of the other projects designed for PEGS, MCR included an interstitial indoor-outdoor space along the curvaceous rim to ensure students benefit from fresh air in between musical sessions.
Although there's a strong juxtaposition between the past and present, MCR introduced its signature curves soon upon arrival into the period building.
One of new studios, for example, features a striking pale blue ribbed wall that hovers below the period Victorian ceiling.
"We reimagined the Victorian cornices," says Ryan, pointing out the ribbed wall enclosing a studio.
Other elements from the past, such as the bevelled art deco doors leading to a room with bay windows, were simply restored and double-glazed for acoustic control.
Other acoustic measures can be seen in the new ceilings, along with architectural gestures such as timber battens in both walls and ceilings.
"Some of this wall detailing was inspired by piano keys, along with the strings of a harp," says Ryan, pointing out the finer timber detailing.
It would have easier to simply demolish the Victorian building, given its numerous defects.
Loading
However, given its long legacy with the school and its environ, including a combination of Federation and Victorian homes, MCR was keen to extend the life of the period building, while adding a strong contemporary 'voice' in the process.
"We've made small interventions along the way, but also created a new courtyard space, along with attracting northern light," says McBride.
"It's also important to create the appropriate spaces for children to learn, whether it's in their own in individual studios, or all together," adds Ryan.