The margin has blown out to a game-high 28 points in favour of the Bulldogs early in the final quarter, 13.6.84 to 8.8.56.
It's going to be incredibly hard for the Suns now. The Dogs have had nine individual goalkickers, triple the Suns' figure of three.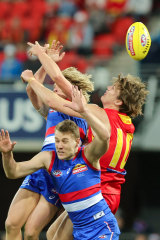 Gold Coast 4.1, 6.5, 8.7 (55)
W.Bulldogs 3.2, 8.4, 11.5 (71)
GOALS
Gold Coast: Holman 3, Ainsworth 3, Sexton 2
W.Bulldogs: Ugle-Hagan 3, Macrae 2, McNeil, Daniel, Johannisen, English, Bruce, Weightman
DISPOSALS
Gold Coast: Miller 24, Sharp 23, Fiorini 21
W.Bulldogs: Bontempelli 26, B.Smith 26, Hunter 24, Dale 23, Macrae 23
INTERCEPTS
Gold Coast: Bowes 8, Swallow 7, Fiorini 4, Sharp 4
W.Bulldogs: Keath 9
Late goals from young guns Ugle-Hagan and Weightman give the Bulldogs some much-needed breathing space from the plucky Suns.
The Dogs are their own worst enemies in many respects, as they lead the inside 50s convincingly 46-27, yet have only had one more scoring shots (16-15).
But they're also comfortably winning the disposals 311-267, clearances 36-26, hitouts 36-23 and contested possessions 111-99 and have had more free kicks (17-16) too.
If those trends continue into the final term, it will be very hard for the Suns to turn the tide.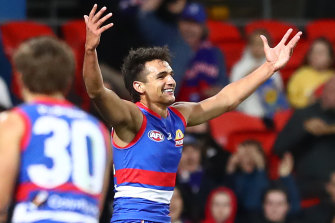 As mentioned earlier, Conor Nash is a late withdrawal from Hawthorn's selected side after visiting a COVID exposure site, and has been replaced by James Cousins.
Tom Sparrow (Melbourne) and Jai Newcombe (Hawthorn) are the medical substitutes at the MCG tonight.
Gold Coast's backline has been brilliant. Despite the Dogs leading the inside 50s 40-24, they only lead by six points with 6:15 left in the third quarter, 9.5.59 to 8.5.53.
Bruce's goal has been cancelled out by Sexton who joins Holman and Ainsworth as the Suns' multiple, and only, goalkickers.
The Suns have clawed their way back into this contest. Stuart Dew would be rapt. They've now kicked three of the last four goals to trail by just six points approaching the halfway mark of the third quarter, 7.5.47 to 8.5.53.
The Doggies have been stifled very effectively, and after kicking seven of eight goals at one stage, have been held goalless since half-time.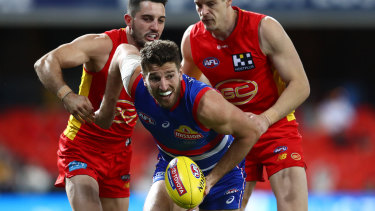 As the players catch their breath during the half-time break at Metricon Stadium, hop in our time machine and travel back to 2015 for a classic clash between Gold Coast and the Western Bulldogs.
Gold Coast 4.1, 6.5 (41)
W.Bulldogs 3.2, 8.4 (52)
GOALS
Gold Coast: Holman 3, Ainsworth 2, Sexton
W.Bulldogs: Ugle-Hagan 2, Macrae 2, McNeil, Daniel, Johannisen, English
DISPOSALS
Gold Coast: Fiorini 18, Anderson 14, Bowes 14, Miller 14, Sharp 14
W.Bulldogs: B.Smith 20, Hunter 19, Bontempelli 18, Dunkley 16, Macrae 15, Dale 14, Daniel 14
INTERCEPTS
Gold Coast: Bowes 6, Swallow 4, Anderson 3, Fiorini 3
W.Bulldogs: Keath 7, Dale 3, Richards 3
To the Suns' credit, they responded well late in the second quarter to trim the deficit to 11 points and keep themselves in the contest. It was threatening to become a blowout for a period there.
The fact that the Bulldogs are leading the inside 50s 32-19 for only one more scoring shot (12-11) would really annoy Luke Beveridge.
The Dogs are also leading the disposals 210-195, clearances 23-19, hitouts 21-17 and free kicks 10-9.
After a slow start, the Bulldogs have kicked seven of the last eight goals, including the last five, to wrest the upper hand from the Suns.
Ugle-Hagan and Macrae each have two majors and the Dogs lead by 18 points at the halfway mark of the second term, 7.3.45 to 4.3.27.
Bontempelli is having a huge impact and the Suns have been pretty sloppy defensively.
Leading disposals: Bontempelli 15, Dunkley 14, Fiorini 14, Hunter 13, Macrae 13, Sharp 12, B.Smith 12
Three goals in a row to the Dogs from Daniel, Ugle-Hagan and Macrae see them take a seven-point lead early in the second term, 5.2.32 to 4.1.25.
Ugle-Hagan now has two majors for the visitors in his second game.