Another school, this time in Melbourne's south east, has told parents it will be forced to close after uncovering a new case of COVID-19 in a senior staff member.
St Margaret's Berwick Grammar in Berwick, about 40km's south east of Melbourne, sent a letter to the school community on Saturday saying that per the advice of Victoria's health department they would close immediately.
"Following advice from DHHS the school will be closed to all children in the school until further notice. Currently it is out pln to continue to provide online/distance learning as planned," the letter said.
"This closure will allow time for our school and DHHS to undertake a full risk assessment. The closure will also allow appropriate cleaning to occur on the recommendation of the DHHS.
"The letter said the DHHS had advised the school that all children and staff to remain at home while authorities carried out contact tracing."
St Margaret's is the second school on Saturday to close after Trinity Grammar School in Kew.
About 100 people converged on a park in Bankstown on Saturday afternoon to protest against the NSW Government's move to toughen COVID-19 lockdown restrictions.
Among the stricter measures include restricting residents of Fairfield, Canterbury-Bankstown and Liverpool from leaving their local government areas, except for health and emergency service workers from 11.59pm on Saturday until July 30.
NSW Police confirmed several people had been arrested on Saturday afternoon at Paul Keating Park in Bankstown and the crowd had been dispersed. No charges have been laid so far.
The snap rally was organised on Facebook following NSW Premier Gladys Berejiklian's announcement this morning.
Dozens of truck drivers gathered their vehicles on Sydney's Anzac Bridge, choked surrounding arterial roads and honked their horns on Saturday afternoon in an apparent protest of the state government's decision to shut down the construction industry for two weeks as part of a COVID-19 lockdown.
It was not immediately clear how the protest was organised, with the Transport Workers Union and CFMMEU distancing themselves from the action when contacted.
Premier Gladys Berejiklian announced all construction in Greater Sydney would be paused until July 30 as part of an increasingly strict COVID-19 lockdown aimed at stopping the spread of the Delta variant.
Baz Stowers, one of the organisers of the protest and an administrator for the Official Sydney Tippers page, said people were gutted by the sudden shutdown of the entire construction industry.
The shutdown was announced by Premier Gladys Berejiklian at the 11am COVID-19 press conference on Saturday.
Within two hours, Mr Stowers, a tipper truck driver and father of two from Bankstown, had received the call from work that he had no work on Monday.
Read Caitlin's full story here.
NSW Health has released new alerts for venues in Sydney's inner west, west and south-west that have been attended by confirmed cases of COVID-19.
Anyone who attended the following locations is a close contact and must get tested and isolate for 14 days:
Dulwich Hill

The Fold Café on Thursday 8 July between 10.45am – 11am
The Larder Wine and Cheese Bar on Thursday 8 July between 1.30pm – 1.45pm
Juiceria, 497 Marrickville Rd on Thursday 8 July between 1.35pm – 1.50pm
Excellent Price Variety Store, Ground floor, 503-507 Marrickville Rd on Thursday 8 July between 1.50pm – 2.10pm

Lakemba

Al Sultan Butchery, 130 Haldon Street on Friday 9 July to Wednesday 13th July between 8am – 10pm and Wednesday 14th July between 8am – 2pm
La Bella Patisserie, 42 The Boulevarde on Friday 9 July between 5pm – 5.15pm
Al Fayhaa Bakery, 137A Haldon St on Sunday 11 July between 12.50pm – 1.05pm

Chester Hill

Aya Family Healthcare Afterhours, Shop 21, Chester Square, 1 Leicester Street on Wednesday 14 July between 8.30pm – 9.20pm

Chinderah

Truck stop at the Ampol service station (northbound) near Murwillumbah turnoff, including the truck drivers' toilets, showers and lounge, and the food court, 112 Tweed Valley Way from Tuesday 13 July 8.30pm to Wednesday 14 July 7.30am

Mt Druitt

Mt Druitt Medical and Dental Centre, 22 Jirrang Close on Wednesday 14 July between 11.35am – 1.15pm
The full list of exposure sites can be found here.
Thousands of students, staff and family members connected to a private school in inner-suburban Melbourne have been forced into a 14-day quarantine after a new positive case was discovered amongst the student cohort.
The entire school community at Trinity Grammar School in Kew have begun a compulsory 14 day quarantine to contain the spread of coronavirus. After being declared primary close contacts.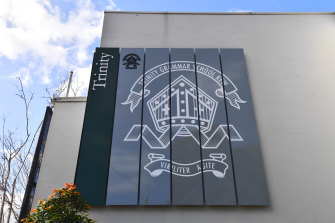 Principal Adrian Farrer told parents and guardians on Saturday that he was contacted late last night by the health department, and the parent of a year nine student on Saturday, that a new case had been discovered amongst the school's cohort.
"Very late last night I was contacted by the Department of Health and a Year 9 student's mother today that her son had been confirmed as positive. He is feeling ok and the family are in good enough spirits," he said.
"Due to the nature of staff and student movement in schools, there is a high number of direct contacts."
Mr Farrer said all members of the household are required to quarantine for the full 14 days, regardless of test results.
"With four confirmed cases, and the possibility of more, the Department has today advised that all ELC, Junior and Senior School students are now classified as Primary Close Contacts," he said.
"This means that if a student was earlier classified as a Secondary Close Contact (SCC) they are now a PCC and must quarantine with their household for 14 days."
Day one of quarantine for the school community began on Friday July 16.
A popular coastal town is on high alert after Victorian health authorities listed five new tier 1 exposure sites, including several restaurants, as the outbreak seeded by removalists from NSW continues to grow.
The Health Department on Saturday added five new sites in the suburb of Cowes in tourist spot Phillip Island, which sits just under two hours from Melbourne on the south eastern Victorian coast.
The exposure sites are likely connected to three new cases announced on Saturday connected to a man in his 20s who caught COVID-19 in the MCC Members' Reserve area at the Geelong-Carlton AFL match.
Authorities say the man then infected two friends who went on to travel to Cowes, in Phillip Island, on July 13.
Among the tier 1 sites are Xpress Gourmet Pizza and Pasta and Youki's Japanese Restaurant on Chapel Street, One Stop Discount Shop on Thompson Avenue, Coles Cowes and Vinnies Cowes.
As of 5pm on Saturday, the department had listed a total of 181 exposure sitesthat are connected to the recent coronavirus incursions from NSW.
Three removalists who allegedly had knowledge they were infected with COVID-19 before travelling from Sydney to regional NSW are among the latest people to breach NSW's Public Health Order, NSW Police say.
Just after 2.30pm on Friday, police officers from Central West Police District attended Speedy Street, Molong, and spoke with four men – aged 21, 49 and two aged 27 – after receiving reports they had travelled there from West Hoxton.
West Hoxton was the location of a "superspreader" birthday party in June where the majority of the attendees caught the highly transmissible virus.
Police established the four removalists had travelled from West Hoxton to Figtree, before travelling to Molong, stopping in regional areas including South Bowenfels and Orange along the way.
They allege three of the men travelled to Molong after being notified they had tested positive to COVID-19.
Police escorted all four men back to Sydney where they have been instructed to isolate for 14-days.
The younger three men were issued Court Attendance Notices for not complying with COVID-19 restrictions.
Minister for Police and Emergency Services David Elliott said he was troubled by this significant breach of the Public Health Orders.
"This thoughtless act has now placed our regional communities in NSW at the greatest risk so far with this pandemic," he said.
State Emergency Operations Controller, Deputy Commissioner Gary Worboys, said police will be increasing their response to ensure public safety is the number one priority.
"Currently, we are seeing millions of people right across this state doing the right thing being let down by a small minority who continue to be irresponsible and put themselves and their communities at risk," he said.
"Today's strengthening of the health orders means that people will have to change the way that they behave."
In total, police have issued 162 Penalty Infringement Notices (PINs) and charged 18 people for breaches of the Public Health Act in the past 24 hours.
The Victorian Health Department has been contacting sports fans who were in close physical proximity to the positive case who attended the Wallabies v France match on July 13 at AAMI Park.
A small area of the sports complex, aisles 20, 21, 22, and 23 on level one, has been declared a tier 2 exposure site by the department, with the entire stadium being a tier 3 site.
But health authorities, working with CCTV and ticketing data alongside AAMI Park management have also identified a handful of Victorians who they think came into close contact with the positive case at the stadium, and have been contacting them directly, the health department confirmed.
A few readers got in touch after receiving texts from the department and becoming confused after seeing that the stadium was only a tier 2.
The health department said this is their standard practice for managing contact tracing of cases at large-scale sporting events.
Players and staff from eight AFL clubs visited exposure sites in Victoria in the past few days but all have returned negative results after being tested.
The AFL confirmed that players from Collingwood, Essendon, GWS GIANTS, Hawthorn, North Melbourne, St Kilda, Sydney Swans and the Western Bulldogs either attended the rugby match between the Wallabies and France at AAMI Park on Tuesday night or visited other listed exposure sites in Victoria.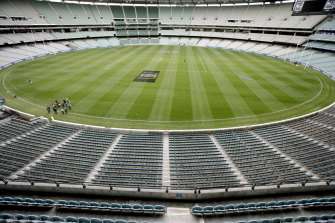 The AFL confirmed a number of the players and staff attended exposure sites currently classified as tier one which requires them to spend a mandatory 14-day period regardless of a negative test result in quarantine.
It will mean clubs will be without players for their round 18 matches as the individuals enter the compulsory quarantine.
The majority of those who attended the rugby match were in places classified as tier 3 exposure sites.
Some of these players and staff are currently in Queensland and in isolation in accordance with government directions and the AFL have notified the sunshine state's authorities.
The situation became apparent after it became clear players from Essendon and North Melbourne and a couple of club officials were caught up in the drama.
"The AFL confirms there are a number of players and staff [affected] that are currently classified as tier one," a spokesperson said.
"Tier 1 enforces a mandatory 14-day quarantine period regardless of a negative test result – those affected are currently undertaking this directive."
Eighteen of Victoria's latest COVID-19 cases were infectious in the community for an average of 1.7 days, vindicating the state government's "go hard, go early" lockdown strategy, but health authorities have refused to rule out an extension of the five-day snap lockdown.
Victoria recorded 19 new local cases of coronavirus on Saturday, as new sites at popular tourist spot Phillip Island, a Richmond gym and a Docklands office building swelled the list of high-risk exposure sites to 165.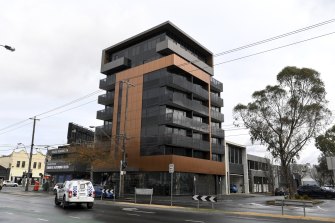 Health Minister Martin Foley told reporters on Saturday morning that the results were a "vindication for the going hard and going early strategy".
"There has been an average of less than two infectious days in the community, and that measure is really important because it shows the value of going hard and going early to make sure that we get our arms around this as quickly as possible," he said. "This lockdown was needed."
But Chief Health Officer Brett Sutton said it would take just one essential worker out and about during lockdown to cause a superspreader event.
"We just need to brace ourselves for any possibility," he said.
"The response couldn't have been better … that's got us on a good trajectory and it is, without question, a better situation than would have been the case without a lockdown."
One of the cases – a household contact of the man who caught COVID-19 at the Coles in the City of Hume – was in isolation for their entire infectious period.