With cases swelling in 49 states and hospitalisations on the rise, the US is seeing a "pandemic of the unvaccinated" in parts of the country where inoculation rates are low, the head of the Centres for Disease Control and Prevention said.
The governor of Louisiana, one of the least-vaccinated states, said it was time to "run, not walk" to get a shot.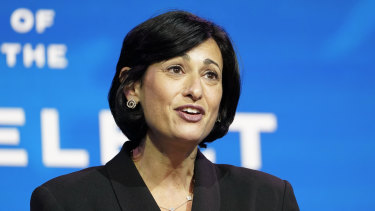 While the number of cases is increasing, the most concerning outbreaks continue to occur in areas with low vaccination rates, Dr Rochelle Walensky, the CDC director, said at a news conference Friday.
"This is becoming a pandemic of the unvaccinated," Walensky added. The average number of hospitalisations and deaths has also increased in the past seven days, rising roughly 36 per cent and 26 per cent, respectively, per the CDC.
Jeff Zients, the White House COVID-19 Response Coordinator, said four states accounted for more than 40 per cent of all new COVID-19 cases in the US last week, with 1 in 5 cases occurring in Florida.
Zients didn't name the other three, but CDC data shows Arkansas, Missouri, Florida and Louisiana with the highest case rates per 100,000 people — each averaging over 150 in the past seven days.
Cases will continue to increase in the coming weeks and will be centred in unvaccinated communities, Zients said.
"If you're unvaccinated, please get vaccinated now," he added.
Governor John Bel Edwards said Louisiana, which has one of the lowest rates of vaccination in the US, was in a "fourth surge."