A little over two months ago I pointed out that both Scott Morrison and Anthony Albanese had each begun describing their own actions as "cautious". They meant this, of course, as a positive. Morrison, defending his India flight ban, said "cautious decisions have proved very effective for us".
So it was interesting to hear him use the word last week with quite a different sentiment. The immunisation advisory body, ATAGI, had "put us behind" on the vaccination rollout, Morrison said, skipping lightly over his own role in the affair. The doctors had been "very cautious and that had a massive impact on the rollout of the vaccine program. It really did."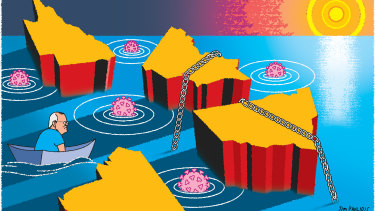 This was a transparent effort to do what Morrison often does, which is to create another villain in order to tell a different story about what has happened. But the more interesting fact here is how quickly the politics have shifted. In May, patience was a virtue. July is all about impatience. Morrison knows we want to get on with things. Caution is no longer king.
Here is another dramatic turnaround: not long ago, the federal government was being criticised for not having released persuasive vaccination ads. When we finally saw its new efforts a week ago they were criticised on various reasonable grounds. But one of the reasons given seemed to contradict the earlier criticism: why was the government bothering to advertise? After all, the problem wasn't convincing people to get vaccinated, these critics said – it was that we didn't have enough vaccines.
More simple-minded figures in the government might complain: we get attacked whatever we do! The smarter ones will understand what this is telling them. When a government hits this point, it means public frustration is both wide and deep. That frustration will run along whatever path presents itself. The reasons given for each instance of anger are not always logical, but this doesn't mean the anger itself is misdirected. It certainly should not be ignored.
Loading
In relation to both the federal and NSW governments a single question now dominates: why weren't things done sooner? Of course, not everyone feels the same way: dozens of truck drivers honked their horns as they drove in convoy through Sydney on Saturday, angry at the NSW Premier's decision to shut down construction work. But this seems outweighed by broader irritation with the Premier's reluctance to lock down more strongly, earlier, in the face of rising cases.
The difficulty for both Morrison and Gladys Berejiklian is this solid, unarguable fact: not far off half of all Australians are now living under strict lockdown.
But Labor (at either NSW or federal level) should not assume this scratchy mood will last. Perhaps illogically, it may even end up benefiting the leaders currently suffering from it.