"That's obviously a judgment call for them to make based on the circumstances, but they're not prevented from doing that."
The tactic of teams giving away six-agains early in tackle counts deep in opposition territory has become more of a factor as the season has worn on, culminating in a controversial State of Origin series finale on Wednesday night.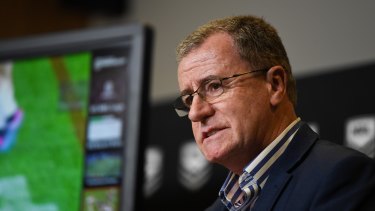 Gerard Sutton blew 14 set restarts, eight of which were for Queensland and NSW standing offside. That was on top of seven penalties.
Asked about the increasing prevalence of six-agains, Fittler told The Footy Show: "We had the same in Origin, three on one tackle and we didn't make five metres.
Loading
"Sides realise now, especially on early tackles, they're giving up a tackle. We've got to have a look at that rule, I believe – especially with the 10 metres and switching that back to penalties. Teams are just taking the p***."
Australian Rugby League Commissioner Wayne Pearce has been a strident supporter of the six-again rule, claiming it had all but eliminated wrestling from the game.
And Annesley said it had helped nurture a free-flowing contest in most games after its introduction during the COVID-19 season shutdown last year.
"If you're looking at the original intention of the six-again rule, it was to promote continuity of play and increase the entertainment value for fans – and I think many ways it's done that," he said.