Increasing our vaccine coverage, be it Pfizer or AstraZeneca, as fast as possible is the best thing to do to dampen outbreaks – and means we are less likely to go into lockdown.
Loading
However, it would take 90 per cent (at least) vaccine coverage for vaccination alone to really dampen transmission and achieve that thing called herd immunity. The Pacific Island nation of Niue has just achieved 97 per cent vaccine coverage, but I fear Australia will not achieve 90 per cent plus vaccination coverage – including children.
For these reasons, the next year or so will see us needing to augment vaccination with the tried and true measures we have learnt so far.
Mask wearing, at least on public transport and in high-risk indoor environments, is here for some time to come.
From October on, I believe we can partially open borders to vaccinated and pre-departure tested travellers from low-risk countries like China. Indeed, the risk from such a traveller bringing the virus in to Australia now without quarantine is less than the risk of travellers from much of the rest of the world bringing the virus in through formal quarantine. Why? Because the infection rate varies hugely by country, and quarantine – as we all know – is far from perfect.
In early 2022 we will have reached the point where all Australians (including children) have had the opportunity to be vaccinated. Then we can open the borders more fully for quarantine-free travel.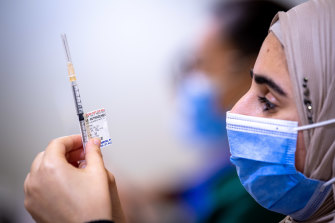 If we reach about 70 per cent vaccine coverage, and we open up to about half the pre-COVID volume of travellers, from countries with low to moderate infection rates and all pre-departure tested and vaccinated, we might expect one infection per day to arrive in Australia. This will – I think – be "manageable" with COVID mortality about 100 in a year and hospitalisations about 2000 per year.
The key thing here is we need to pivot next year to accepting some level of risk – trading that off against restrictions and lockdowns. We have provided publicly available modelling for you to explore what policy settings you would use if you were the Chief Medical Officer.
Loading
Most of the morbidity and mortality when we open up will be among the unvaccinated. This raises a challenging ethical dilemma. To what extent should society limit the freedoms of all its citizens due to the greater vulnerability of those who are not vaccinated?
At the very least, I hope that when we do open the borders, and some morbidity and mortality among the unvaccinated becomes evident, there will be another surge in vaccination uptake.
Professor Tony Blakely is an epidemiologist at the University of Melbourne.