On Monday many residents still thought that COVID-19 surveillance tests were required every three days for workers leaving the Canterbury-Bankstown LGA; but that rule only applies in neighbouring Fairfield.
NSW Health is emphasising that residents should focus on conducting their activities as close to home as possible.
Deanna Hayes said that within the space of 24 hours there was a backflip on whether her husband could attend his work in education.
"I find the messaging changing from when you go to bed to getting up in the morning very frustrating," she said.
Another resident, Ian Sharratt, complained that the announcement of restrictions seemed haphazard.
"We all want to comply but how can you when the goalposts move every day?" he said.
Others felt it was unfair that pockets that are relatively COVID-free are copping the same restrictions as the epicentre of the outbreak.
Suburbs such as Hurlstone Park, Earlwood, Croydon Park and Canterbury have barely a case between them and are a 28-kilometre drive from virus-ridden Fairfield.
They appear to have been caught in tougher restrictions due to 2016 council amalgamations, when Canterbury and Bankstown merged to form the most populous local government area in Sydney.
"We at the 'Paris end' of Canterbury should not be lumped in with Bankstown, Fairfield," commented local Jeff Swain.
Loading
Geoff Cron described the shutdown of the area as "bleak".
"There are no cases in our immediate postcodes and people are angsting about which side of the river they walk their dog," he said.
Jacinta Barton, a resident of Croydon Park, described the messaging as "confusing and easily misinterpreted".
She was baffled that most people couldn't leave the local government area for work but could go shopping or exercise within a 10-kilometre radius.
"That would mean I'd technically be allowed to exercise as far east as Barangaroo or as far west as Sydney Olympic Park," she said, adding that she hoped the state government would adopt a more targeted approach, as was seen on the northern beaches.
"The government recognised that most of the cases were represented in the northern peninsula and so continued stricter restrictions in those areas rather than blanket the whole council," she said.
For Cristian Garcia that contrast could not be more stark. He owns two butcheries at opposite ends of the area under stricter lockdown. While his store in Fairfield is struggling, there are a steady stream of customers in Hurlstone Park.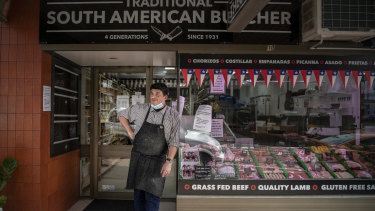 "I've got a lot of support from locals," he said.
Mr Lakis also felt fortunate.
"People here, they're so good to us. They'll come and get things they don't need just to support us."