"When we heard there was a man [with COVID-19] just in Mildura we were pretty nervous," she said. "A lot of our trade goes between Melbourne and Mildura."
Ms Durie, who went for testing on Monday morning, said her business had enforced QR code check-ins and masks in the store.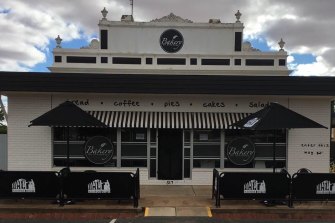 "Some people walk out because they don't have a mask. We are very strict but not nasty about it."
Buloke Shire mayor Daryl Warren said Wycheproof and other nearby towns would be watching anxiously to see whether the infection had spread locally.
"The bakery is a very popular stop for visitors and for locals," he said.
The East Wimmera Health Service set up a drive-up testing site at its Wycheproof hospital campus from 8.45am on Monday.
By Monday afternoon in Mildura there were 11 exposures sites, nine of them tier 1. The second COVID-19 case was a household contact of a man who contracted the virus at a football game at the MCG.
Independent Mildura MP Ali Cupper said people queuing for tests on Monday morning were told to leave as testing capacity was overwhelmed.
She said people with symptoms, who had not been contacted by the Health Department, were being turned away.
"That put people who had symptoms in a really awkward position," she said.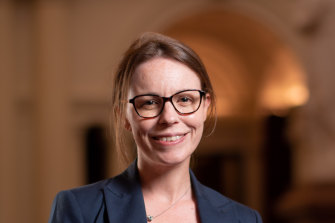 Authorities scrambled to set up a second testing site in Mildura deploying a rapid response testing team from Bendigo Health to provide support in the afternoon.
Ms Cupper said there was a major shortage of Pfizer vaccine in the region and she had been unable to book an appointment for a jab despite being eligible.
"We're off to a very shaky start in terms of testing and this is a community that's largely unvaccinated."
A Bendigo Health spokeswoman dismissed reports that a shortage of testing kits had hampered testing in Mildura.
"It was an IT issue that was causing a temporary delay," she said.
Chief Health Officer Brett Sutton said there was additional support being provided to help the public health effort in Mildura, but Premier Daniel Andrews said he had received no advice about a testing kit shortage.
"In fact, we've added to the capacity, which is really important because we want people who've got symptoms to get tested," he said. "We're not inviting the entire community to get tested as we did with Shepparton last year. We hope it doesn't get to that; we don't want people to flood the place."
Professor Sutton said an online community forum would be held in Mildura on Monday night, with presentations from Mildura's mayor, Jason Modica, the Department of Health and the local public health unit.
On Phillip Island there were 26 exposure sites in Cowes, two at Summerlands and one each in Newhaven, Ventnor and Churchill Island. In San Remo there were two exposure sites, both of them tier 1.
Bass Coast Shire chief executive Ali Wastie said local testing times had reduced significantly from the six-hour waits experienced on Saturday.
"What we've seen is a really good response from the community," she said.
The Morning Edition newsletter is our guide to the day's most important and interesting stories, analysis and insights. Sign up here.