For more than a year, Turkey has turned a blind eye to the migrants, allowing them to try the sea crossing to Greece. That country has resorted to expelling migrants forcibly, disabling their boats and pushing them back to Turkey when they are caught at sea.
Increasingly, Greece is removing asylum-seekers who have reached its islands, forcing them into life rafts and towing them into Turkish waters, as the compassion many Greeks had shown during earlier waves of migration has given way to anger and exhaustion.
Frustrated after more than a year of picking up migrants left by their Greek counterparts, the Turkish coast guard invited journalists recently on a patrol boat to witness what they said were the Greek violations.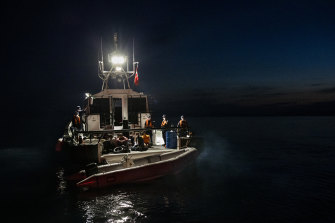 The tactic of pushbacks has been denounced by refugee organisations and European officials as a violation of international law and fundamental European values. The Greek government denies it has pushed back migrants, while insisting on its right to protect its borders.
"Numerous cases have been investigated, including by the European Union," Notis Mitarachi, minister for migration and asylum in Greece, said last week, "and reports have found no evidence of any breach of EU fundamental rights".
Loading
Philippe Leclerc, head of the United Nations refugee agency in Turkey, said his office had presented evidence, including "accounts of violence and family separations" to the Greek ombudsman, requesting the cases be investigated, without result.
The two countries are at an impasse, with Turkey demanding that Greece end the pushbacks first, and Greece demanding that Turkey first take back 1400 migrants whose asylum requests have been rejected, Leclerc said.
An Afghan teenager with an injured leg, Reyhan Ahmedi, 16, was picked up after six hours at sea alone after being expelled by Greece. He said he had fled his home in the town of Gereshk, in southern Afghanistan, as attacks from the Taliban escalated. When he got news that his home had been bombed and was unable to reach his parents, he decided to make a bid to reach Europe.
"I thought I should take myself away from Afghanistan and find a better future for myself," he said. "I want to get an education."
The New York Times