Saturday's protests drew a mix of people angry at the government for various reasons, and notably, supporters of the far right. Prominent French far-right figures have been convicted in the past of antisemitism, racism, and denying the Holocaust.
Other anti-vaccination protesters drew on the French tradition of "liberty" or pro-choice slogans typically used to support contraception and abortion rights.
The government is introducing a bill on Monday requiring all healthcare workers to get vaccinated against the coronavirus and requiring COVID-19 passes to enter restaurants and other venues.
The bill enters into force on Wednesday for cultural and recreational venues, and early August for restaurants, bars, and other places.
At a large protest in Paris on Saturday against the rules, one demonstrator pasted a star on his back reading "not vaccinated." Another, Bruno Auquier, a 53-year-old town councillor who lives on the outskirts of Paris, drew a yellow star on his T-shirt and handed out armbands with the star.
"I will never get vaccinated," Auquier said. "People need to wake up."
Polls suggest most French people support the measures, but they have prompted anger in some quarters. Vandals targeted two vaccination centres in the country's south-west over the weekend. One was set on fire, and another covered in graffiti, including a reference to the Nazi occupation of France.
France has reported more than 111,000 deaths in the pandemic, and new confirmed cases are increasing sharply again, raising worries about renewed pressure on hospitals and further restrictions that would damage jobs and businesses.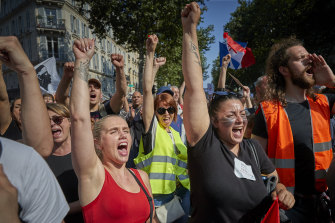 Loading
The government has ordered tougher border controls on visitors, and some regions have reinstated mask rules outdoors and ordered restaurants and bars to close early.
Klarsfeld, whose father died in Auschwitz, pushed back against protesters' demands for "liberty" and claims that the latest health measures were dictatorial.
"What freedom is it they seek? The freedom to be contagious?" he asked.
In Germany last year, several people protesting virus restrictions put on Stars of David, prompting prominent German Jewish leader Josef Schuster to denounce a "disgusting instrumentalisation" of the symbol.
In Russia, popular actor Yegor Beroyev wore a yellow star last month at an awards ceremony, speaking of "waking up in a world where [COVID-19 vaccination] became an identification mark."
AP